X-Team was founded in 2006, exactly fifteen years ago. What began as a few passionate developers working remotely from Australia has grown into a global community of energized developers that push the boundaries of what people thought was possible with remote work.
In 2021, the X-Team community grew leaps and bounds both in developers and partners. We organized our biggest events ever and (once again) validated remote work as a sustainable and successful work model. All in all, it was a big year for X-Team, and we bundled all that positive energy into the final epic event of the year, X-Mas 2021: Our Time.
The X-Mas Livestream
The X-Mas livestream began with a concert of ASADI and XYE, two hyper-talented musicians who played Persian trap music mixed with the occasional Harry Potter and Star Wars tunes, as well as an X-Team exclusive track. All filmed on a rooftop in Los Angeles, showcased to X-Teamers all over the world.
Next came a throwback through fifteen years of X-Team events. OG X-Teamers commented on some of the things they had organized, worked on, or participated in over the years, from the early X-Mas parties to the first X-Team website to, yes, squeezing into spandex for the amusement of the community. It was both nostalgic and a nice reminder of how far we'd come over the years.
Next, after a mash-up of some of the celebrities and voice actors we had met during the GameCon and STARCON events, came the most emotional moment of X-Mas. Hero Drops are how X-Teamers give back to their community and help transform the world around them into a better place. This year, the following happened:
X-Teamers gave thousands of toys to underprivileged children for an unforgettable, joyful Christmas.
An X-Teamer upgraded his best friend's battlestation so he could learn how to program and climb his way out of a life that had given him many struggles.
X-Teamers donated dozens of high-speed computers to a school that only had two functional computers, so their pupils could learn how to program without hardware issues.
Then it was time for some huge announcements. First: Vault Drops. Almost too many to mention: the launch of a women's Vault collection, a legendary Goku tee, a beanie, KMF socks, an X-Team beanie, House pins, the launch of the highly anticipated XLBL line, and more.
Second: a $500 upgrade to the Unleash+ budget, for every X-Teamer to spend on whatever improves their mental health, whether that's sports equipment, a new game, a massage, travel, et cetera. Alternatively, X-Teamers can also decide to pool their money together and fund an X-Outpost to meet each other.
Talking about meeting each other, third: we announced an X-Summit in Brazil. That's right, the X-Summit that saw its epic debut in Poland in 2019 is coming to Brazil in 2022. It will be an event never to forget. More details early next year...
An Attitude of Gratitude
We weren't done yet. What would X-Mas be without its appreciation bombs? Just like last year and the year before, in our #appreciation Slack channel after the X-Mas event, X-Teamers sent their thanks to the colleagues who helped them, inspired them, and went the extra mile for them or their team.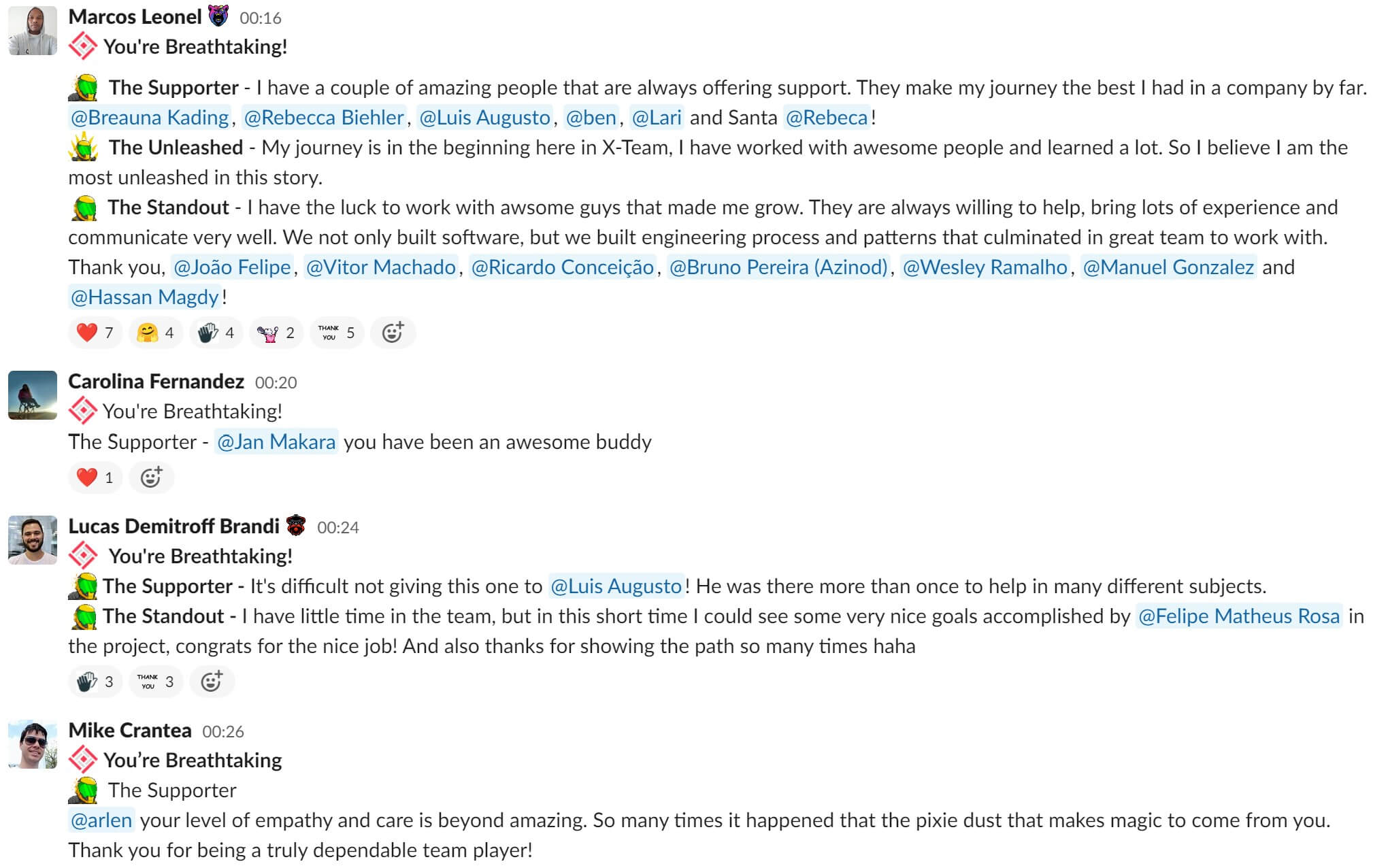 The appreciation bombs show how interwoven the X-Team community really is. It's not the same people who get thanked over and over. As you can tell from the screenshot above, it's an enormous variety of people. You'd struggle to find an X-Teamer who hasn't been thanked these last few weeks. Everyone helps each other; a testament to the strength of the community.
---
That was only the start. X-Mas continued for days after the livestream with more exclusive Vault drops in Rebellious, our iOS/Android app that debuted during this year's virtual X-Summit. Every X-Mas is meant to energize and inspire every X-Teamer, no matter who you are or where you're from. X-Mas 2021 showed how much we've grown in fifteen years and how much further we can still go. Onward to 2022.