Are you looking to hire developers or designers and do you want to better understand which Toptal alternatives and competitors are out there? In this article, we'll analyze 4 Toptal competitors to help you figure out which freelance developer platform will best suit your needs.
Toptal vs X-Team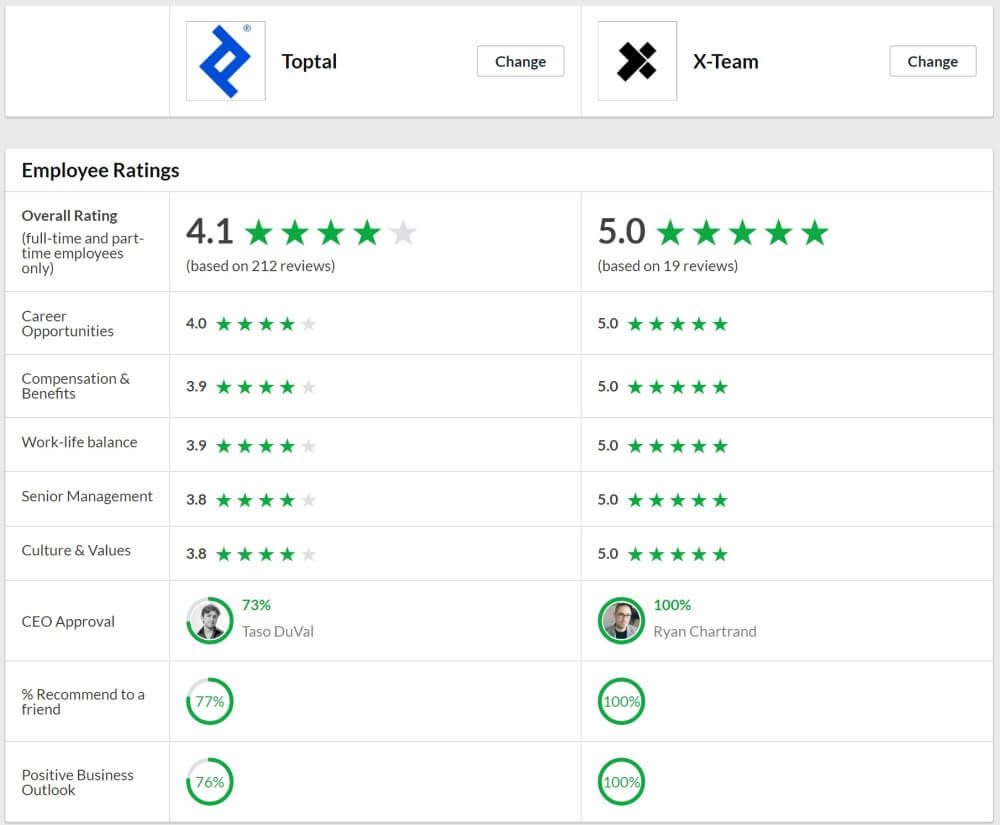 What is X-Team?
Since 2006, X-Team has provided trusted, motivated developers to companies looking to scale their teams. This makes it the longest-running Toptal alternative of the group (even Toptal was only founded in 2010).
Unlike most of its competition, X-Team is not a simple project-freelancer matching service or agency. It is a tightly-knit community of top-class developers, specifically selected not only for their technical skill but also for their well-vetted communication skills and a certain compassionate personality, which fits with the company's philosophy of creating a better future for people around the world.
X-Team places huge value on professional and personal growth, and have teams dedicated to helping their developers "unleash" both their hidden and obvious talents. This investment resulted in steady year-over-year growth of 30% in the past three years, with more and more partners trusting X-Team's fully remote workforce.
Moreover, all this is done 100% remote. X-Team does not have an office. Instead, they have distilled remote working down to a science and opened the lessons for everyone to see in X-Team's Definitive Guide to Remote Development Teams.
The company was founded by Dave Rosen in 2006. However, since 2014, it is run by the CEO Ryan Chartrand, who has envisioned its unique approach to employee satisfaction (>96%), unprecedented developer growth and motivation, and its marketing strategy, which have been instrumental for the company growth.
The major partners of X-Team include some of the world's leading brands, such as FOX Broadcasting, Riot Games, Kaplan Inc., Discovery Channel, National Geographic, and Twitter.
Talent Available:
X-Team focuses solely on providing motivated developers who are driven to keep their skills sharp in the most widely adopted technologies today.
Project Management:
Project managers are not provided so that developers can communicate directly with your team.
Screening and Interview Process:
X-Team attracts and hires experienced developers who are driven, proactive, open source contributors, committed to always learning and growing, and communicate often. X-Team's vetting process consists of 4 thorough stages:
Initial screening: First, X-Team gives developers a stage to showcase their background, communication skills and personality through a variety of questions and video interviews. X-Team has a strong culture based around a spirit of generosity and humble attitude, and it makes a strong effort to only accept developers who meet that profile.
Portfolio review: Next, they dive deep into their portfolios and prior code samples, looking for people with creative problem solving, highly relevant skillsets, disciplined approach to testing and best practices, experience overcoming large scale challenges, and well-documented code.
Test project: Developers are then given a project with changing requirements and unique challenges to help reveal more about how they react to and communicate in common situations, as well as what technical decisions they make and how those decisions impact long term stability. The product is never used commercially by the company.
X-Academy: At this stage, developers are paid to work on internal projects to continue to prove their value (and that they do not need their hand held), while also being trained on how to be an X-Teamer by giving them a decade's worth of knowledge on how to communicate effectively. They are also welcomed into a highly motivated community filled with opportunities to continue learning and growing.
Developer Learning & Growth:
X-Team provides a wealth of opportunities to their developers to continue learning and growing through its Unleash program.
Every developer gets a $2,500/year discretionary growth budget to purchase programming books or courses (Egghead, etc.), attend workshops or tech conferences (including X-Team's own conference, UnleashConf), get a gym membership to stay healthy, get productivity tools or apps, and anything else that they think will help them grow and stay motivated. The total growth investment into every one of X-Team's developers is approximately $7,500/capita/year, however.
In their free time, developers can participate in X-Team's various ongoing challenges that motivate them to learn and grow. Challenges range from building open source projects together, learning new tech, joining hackathons, mentoring other developers, participating in fitness challenges, learning and sharing productivity techniques, competing in gaming tournaments, and much more.
The development industry today is highly competitive, requiring considerable effort to engage developers enough to retain them for the long haul. Developers today join companies expecting to grow and that expectation has to be met to keep them around.
That is why X-Team invests significantly in keeping their developers motivated by providing them with a myriad of learning and growth opportunities, allowing their customers to focus solely on making great products — not trying to keep their developers engaged.
After a decade of this approach, X-Team has discovered that motivated developers are more active, push projects forward, communicate more often, and consistently deliver and ship products.
"X-Team's moral compass, ethical framework, and care for its developers are all immense factors into what makes X-Team an amazing place to be." - Ali Uz, X-Team developer
X-Team is Suited for You If...
You need motivated, proactive programmers who move projects forward, communicate often, do not need their hands held, and are supported by a company dedicated to helping their developers learn and grow.
It is also a great fit if you are looking for a developer to keep around for the long haul, as X-Team's Unleash program means that its developers will continue to grow their skills alongside your business.
Toptal vs Gigster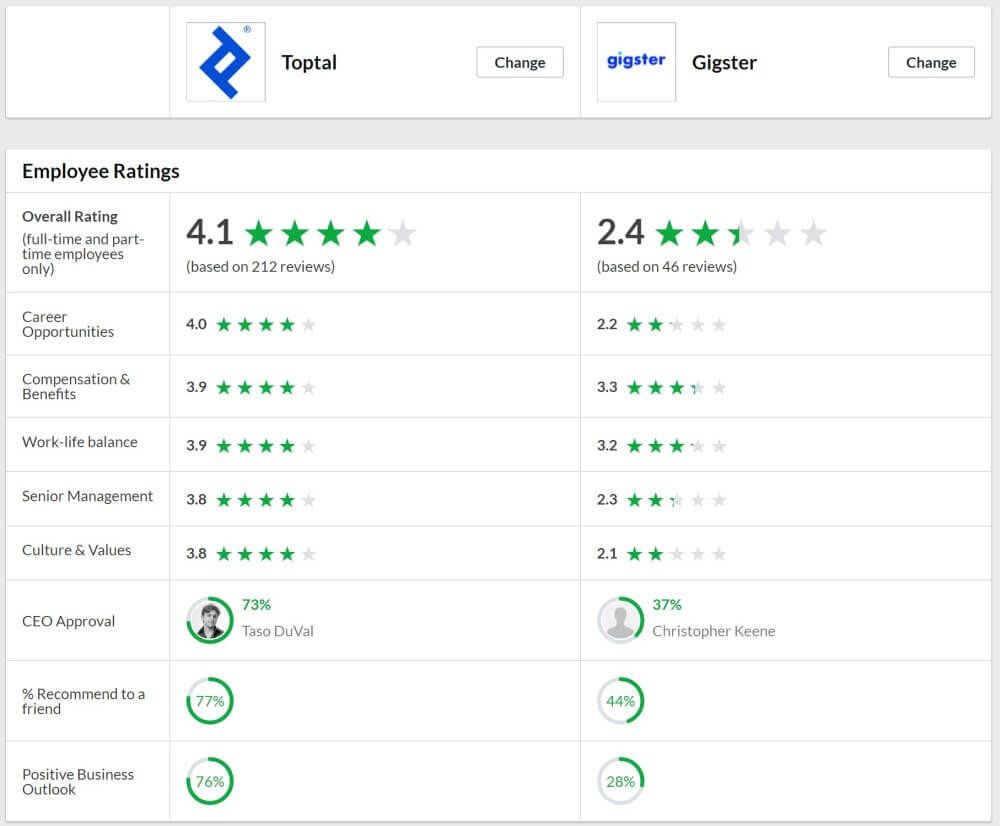 What is Gigster?
Gigster is a company that connects developers with companies that need help with their projects. Gigster was founded in 2014 and is located in San Francisco. Gigster differs from the others Toptal competitors in that they charge a flat per-project fee and also pay their developers a per-project fee.
Gigster is an invite-only network with 70% of their workforce based in the US, 15% come from western Europe, and 15% from elsewhere. They claim to accept only 0.5% of all applicants as "new members", with only 0.2% making it to the "experienced member" stage.
Gigster was founded in 2014 by Roger Dickey and Debo Olaosebikan. Roger, the CEO, is a serial entrepreneur and his co-founder and Gigster's CTO, Debo, is a not-retired-just-busy former rapper and Cornell Physics Ph.D. student who co-led a DoD project while studying.
Some of their major clients include names like IBM, Airbus, USBank, Mastercard, and eBay.
Talent Available:
Gigster provides full teams of developers, designers and project managers.
Project Management:
Using AI, Gigster assembles an entire team. That team is led by a project manager who is the only point of communication with the client.
Screening and Interview Process:
Gigster claims to have people who have graduated from top schools, worked at leading companies, or built popular open source projects in their network. Their vetting process consists of 3 stages:
Resume review: here they look for people with resumes with big company names and top schools.
Written screening: they then ask a series of written questions that test their ability to ship products.
Phone screening: Gigster then tests their personality via a phone call and makes a final confirmation that they are a good fit for their platform.
Freelancer Learning & Growth:
Gigster has a fund that invests in its own clients, and a portion of returns from that fund can be given to their developers as bonuses.
Gigster is Suited for You If...
You have a project idea and want to outsource the development process and work only with a product manager.
Toptal vs Upwork
What is Upwork?
Upwork is one of the best-known Toptal alternatives. It's the largest freelancing platform in the world; it connects millions of freelancers with millions of companies and business professionals. You can find freelancers of all types, from copywriters to designers to developers to accountants.
Upwork came about eighteen months after the merger of Elance and oDesk late 2013. Elance was founded in 1998 and oDesk in 2003. Freelancers on Upwork can pick and choose which jobs they apply for by justifying why they think they'd be a good fit for that particular job. The client then decides who they'll interview and offer the job. Jobs can either be paid hourly, as a one-off fee, or as a fee split up into milestones.
Some of Upwork's clients include Zendesk, Touchnote, and GoDaddy.
Talent Available:
While Upwork has millions of freelancers on their platform and you could arguably find someone for anything, the majority of their freelancers have skills related to web and mobile development, writing, design, admin support, customer service, marketing, and accounting.
Project Management:
You can find hire a project manager on Upwork or work together with an agency on Upwork which has a project manager.
Screening and Interview Process:
Every freelancer needs to go through a vetting process on Upwork. Many applications are denied if Upwork believes there are already too many freelancers on the platform with the same skill. This being said, Upwork does not test the skills of its freelancers.
Freelancer Learning & Growth:
Upwork has a help and support section on its website that helps its freelancers set up a profile and guides them toward their first few clients.
Upwork is Suited for You If...
You're looking for a cheap and fast solution to a relatively simple solution. Given an inviting job proposal, Upwork will send dozens of freelancers your way that you can pick and choose from.
Toptal vs Fiverr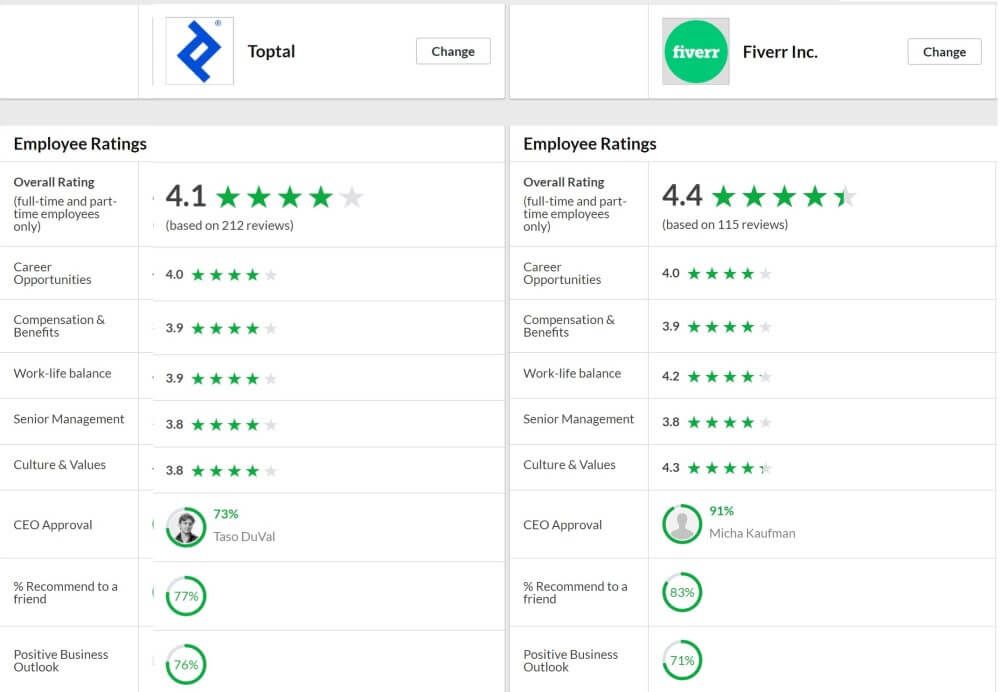 What is Fiverr?
Fiverr is an Israeli online marketplace founded in 2010. Based in Tel Aviv, the company is one of the better-known Toptal alternatives and freelancing platforms. The platform allows people to cheaply buy and sell online services such as writing, logo design, web and mobile app development, and more.
Similar to Upwork, Fiverr has a wide variety of freelancers you can hire for all sorts of skills. But different from Upwork, freelancers can advertise their skills, so you can browse a list of profiles with their starting prices, how well-rated they are, and how often their services have been bought.
Talent Available:
You can't think it weirdly enough or there's likely to be a Fiverr freelancer for it. Whether that's pirate voice-overs or esperanto translations, Fiverr will have someone doing it. Of course, you can also find freelancers for more common skills, from programmers to copywriters to content marketers.
Screening and Interview Process:
Anyone can create an account on Fiverr and set up a profile to start offering their skills. However, Fiverr does have its own "Fiverr Pro" offering, which gives its clients access to the best freelancers in a particular skill. These freelancers have been vetted on the basis of their work experience, online presence, customer behavior, language proficiency, and more.
Freelancer Learning & Growth:
Fiverr has a community where freelancers can ask for help. The Fiverr blog also offers plenty of freelancing advice.
Fiverr is Suited for You If...
You need to hire a freelancer and want a list of people with the right skills to browse through.
Conclusion
Although all of these Toptal alternatives provide development and/or design resources, your decision ultimately comes down to what you need.
Need short-term resources? Consider Gigster, Upwork, or Fiverr. They boast high quality and vetted talent for shorter-term engagements.
Need long-term resources you can trust for the long haul? Consider X-Team. They boast high-quality developers who will be supported, motivated, and will be given a wealth of learning and growth opportunities for as many years as you need them. If you are going for long-term growth (more than 3 months), you need developers who have the support to keep growing with you.
This research comes from the information published on each company's websites. If something is not accurate or you want us to modify it, please reach us at contact@x-team.com. We hope that this article will help you find the right Toptal alternative.