When you work remotely, the world is your office. You can work from a tranquil beachfront bungalow, a bustling coffee shop, or thousands of feet up in the air. It doesn't matter, as long as you have the right equipment. But what do you actually need to set up a compact, efficient, and highly portable mobile office?
In this blog post, we'll dive into the essential items you need to stay connected, productive, and comfortable wherever you are. Get ready to gear up and transform any corner of the world into your personal mobile office.
11 Items You Need for Your Mobile Office
1. Portable Travel Mouse
You shouldn't rely exclusively on your laptop's tiny touchpad. A compact and lightweight mouse will ramp up your productivity while traveling. Find one that has wireless capabilities, because you don't want too many cords in your mobile office.
Logitech's MX Anywhere 3 is a good example of a great travel mouse. It's compact, has customizable buttons, adjustable DPI settings, and can work on almost any surface. It stays powered up to seventy (!) days on a single charge too, eliminating the need to recharge after a few hours of use. But even if you do run out of battery, charge it for one minute and you'll get three hours of use.
2. Portable Laptop Stand
A portable laptop stand elevates your laptop to a more comfortable viewing height. This will reduce neck and eye strain, which is important because ergonomics matter regardless of where you're working from. Make sure the laptop stand is collapsible, so it can easily fit into a travel bag.
One example of a recent travel stand is MOFT's sit-stand laptop desk. It's compatible with all laptops, easily collapsible, and adjustable for different viewing angles. It can hold up to 22 lbs of weight and has reinforced corners and folding lines to ensure it doesn't wear and tear while traveling.
3. Foldable Keyboard
If you have a laptop stand, you'll want a keyboard too. A foldable keyboard is easy to take with while also offering the convenience of full-sized keys. Choose one that connects via Bluetooth, so you don't have to worry about cables. The best foldable keyboards have responsive keys, are rechargeable via USB, and can withstand dust and spills.
The iClever BK08 is an example of a great foldable keyboard. It folds in three, supports all kinds of devices, recharges with USB, and is covered with a matte, solid top frame for increased structural integrity. It is compact, lightweight, and delivers up to thirty days of use from a single charge.
4. High-Capacity Power Bank
Even if your hardware is designed to last a long time on a single charge, at some point you'll need to recharge something. That's where a high-capacity power bank comes in handy. Particularly helpful when you don't have access to power outlets. Choose a power bank with quick-charging capabilities and multiple USB ports.
For example, although expensive, the Anker 737 is a 25,600 mAh power bank that can recharge virtually any device at the fastest speeds possible. You can recharge three devices at the same time via one USB-C and two USB-A ports, and it has a battery management system and a microcontroller that protects your devices against short circuits and overdischarge.
5. Universal Travel Adapter
There's nothing more frustrating than traveling to another country without knowing they use a different kind of plug. Who hasn't rushed to a shop to find a travel adapter? With a universal travel adapter, you won't have to worry anymore. Find one that includes all major plug types and has a built-in surge protection to protect your devices against unstable electrical networks.
The EPICKA Universal Travel Adapter includes four different plugs that cover over 150 countries. It can charge up to six devices with four USB-A ports, one USB-C port, and one AC socket. It comes with a built-in fuse, safety shutters and a plug lock system to protect your devices while they're plugged in.
6. Portable Wifi Hotspot
Slow internet is any remote worker's pet peeve. It's almost worse than having no internet at all. A portable wifi hotspot removes that frustration. It allows you to maintain a secure, reliable internet connection wherever you have cell service. They're compact, easy to carry, and usually have long-lasting batteries. Create your own secure wifi network that supports multiple simultaneous connections.
The only downside of a portable wifi hotspot is that they don't come cheap. Because it's advanced technology, you're looking at a few hundred dollars for the best ones. For example, the Numen Air will set you back $349.99. In exchange, you get a 5G wifi hotspot that works anywhere in the world and supports sixteen (!) devices at the same time.
7. Noise-Canceling Headphones
Noise-canceling headphones are an instant upgrade to your mobile office setup and essential if you want to stay focused for long periods of time. They block out most of the noise that would otherwise distract you. Look for headphones that have good sound quality, are comfortable to wear, and come equipped with active noise-canceling (ANC).
The Sony WH-1000XM4 (or XM5) are considered best-in-class headphones. The writer of this article is currently wearing them and can attest to their comfort and the quality of their noise-canceling. These Sony headphones also let you hear announcements or conversations simply by cupping one ear.
8. Laptop Lock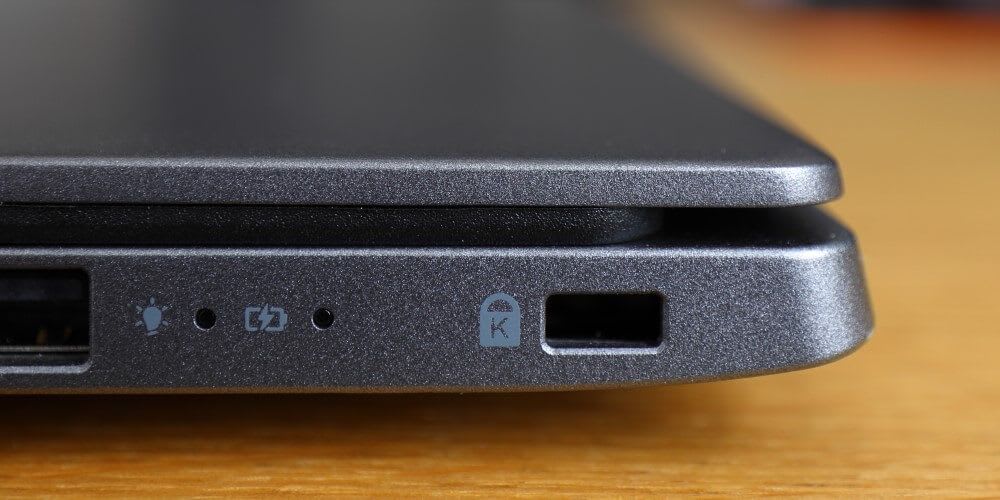 A laptop lock provides a physical layer of security by letting you attach your laptop to a stationary object. It usually consists of a steel cable and a locking mechanism that connects to the Kensington lock slot of your laptop.
Kensington has several laptop locks that provide a balance between robust security and convenience. You can choose between a combination lock that has the convenience of keyless security or a more traditional lock that comes with a key. Almost all their locks have cut-resistant cables.
9. USB Hub
A USB hub expands the number of USB ports available for your devices. Most support USB 3.0 for fast data transfers and some include other ports like HDMI, SD, or Ethernet. Whichever USB hub you buy, it should be compact, lightweight, and sturdy enough for travel.
One such device is the Anker PowerExpand+. It turns a single USB-C port into seven ports (HDMI, SD card, microSD card, and USB-A) while also charging your laptop. This device supports high-speed data transfer and doesn't require an external power source, making it extremely portable.
10. Laptop Privacy Screen
Laptop privacy screens are a smart investment if you want to protect sensitive information from prying eyes. They limit the viewing angle of your laptop screen, so only the person sitting directly in front of it can see what's displayed. Besides privacy, many models also filter out harmful blue light and reduce glare, helping to protect your eyes during extended work sessions.
Consider the 3M Gold Privacy Filter. It not only provides great privacy but also adds an extra layer of protection from everyday scratches and dust. It's easy to attach, remove, and clean, and is compatible with most laptop models. Additionally, it offers a glossy or matte finish, depending on your preference.
11. External SSD or HD
External SSDs or hard drives are particularly useful when you need to carry large amounts of data with you or when internet access for cloud storage is limited. SSDs are generally more durable and faster than traditional hard drives but can be more expensive. They connect via USB, with USB 3.0 or later versions offering the fastest data transfer speeds.
The Samsung T7 (500GB, 1TB, or 2TB) is a great choice for portable storage. It offers lightning-fast data transfer speeds, a shock-resistant structure that can withstand drops from up to two meters, and an optional password protection with AES 256-bit hardware encryption to keep your data secure. It's lightweight and roughly the size of a credit card, making it perfect for your mobile office.