An increasing number of people stream as they code. You might wonder why. After all, why would you want to watch someone else code? These code streams often last for hours. Isn't it a slow and ineffective way to improve your programming skills?
You'd be surprised. Watching a programming live stream is a great way to learn something new or improve an existing skill. First, you'll quickly understand that even experienced programmers struggle. They're no different from you. They have no magic tricks. They google for solutions, just like you do. They forget the semicolon, just like you do. They struggle, just like you do.
Second, watching other people code live will show you the little tips and tricks they use to speed up their programming or improve their code. These are often incredibly valuable things that you would never see in an edited video.
Thirdly, streamers are often very interactive with their audience when they're live. They answer questions, ask questions, and change what they're talking about based on their audience's wishes. That's fun! If you've never watched a live stream before, we recommend giving it a try. Here are 15 live programming channels worth watching:
Daniel Shiffman of The Coding Train streams every Tuesday about a wide variety of programming topics, from algorithmic art to machine learning to generative poetry. His YouTube channel has over a million subscribers with coding tutorials that are mostly about JavaScript and AI/ML.
Traversy Media has hundreds of videos and dozens of video series on a variety of programming topics, from basic web development to MongoDB deployment. His videos walk you through whatever he's building from beginning to end without any edited cuts.
Jason Lengstorf has a Learn with Jason live stream where he pairs up with another developer in the community to learn something new in a ninety-minute stream. He typically covers JavaScript and React techniques and best practices, as well as how to use SaaS tools and platforms.
Adam Wathan is the creator of Tailwind CSS and an occasional YouTube live streamer who streams his coding projects from start to finish. This is code streaming pur sang: You'll see Wathan struggle, look up things, and interact with his audience as he goes along, all of which make for very educational videos.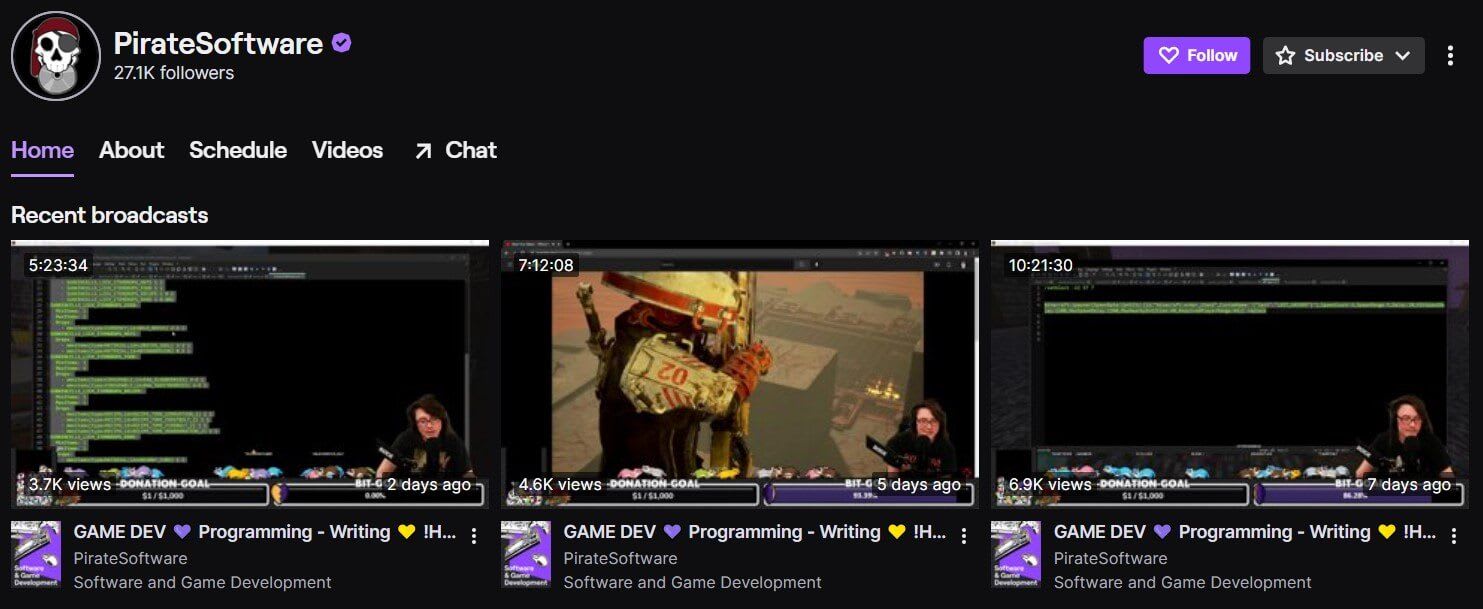 Thor is one of the developers behind Heartbound, an adventure RPG published in 2018 to overwhelmingly positive Steam reviews. Thor has been in the games industry for over eighteen years and streams six days a week about all aspects of game development.
For those of you into ASP.NET Core, .NET Core, Visual Studio, and other Microsoft tools, csharpfritz is the programming streamer for you. You can watch his live streams on Twitch or, if you missed the live stream, watch the recording of it on his YouTube archive channel.
As the creator of the critically acclaimed indie games Braid and The Witness, Jonathan Blow is a well-known name in the gaming industry. On his Twitch channel, he streams crank sessions, where he sets a timer for three hours and programs with as much focus as he can muster that day.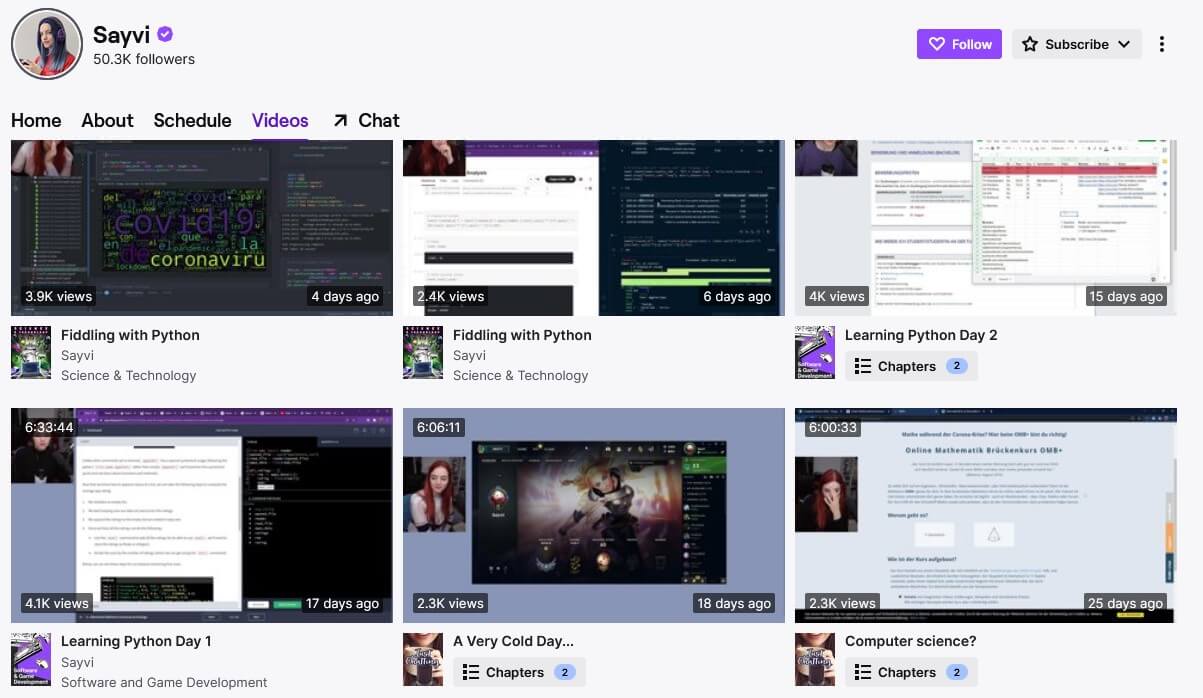 Erika Willis, better known as Sayvi, is a Twitch streamer who records her journey learning new technologies (Python, currently). She also frequently streams games, from League of Legends to Sekiro, and occasionally tries to speedrun a game.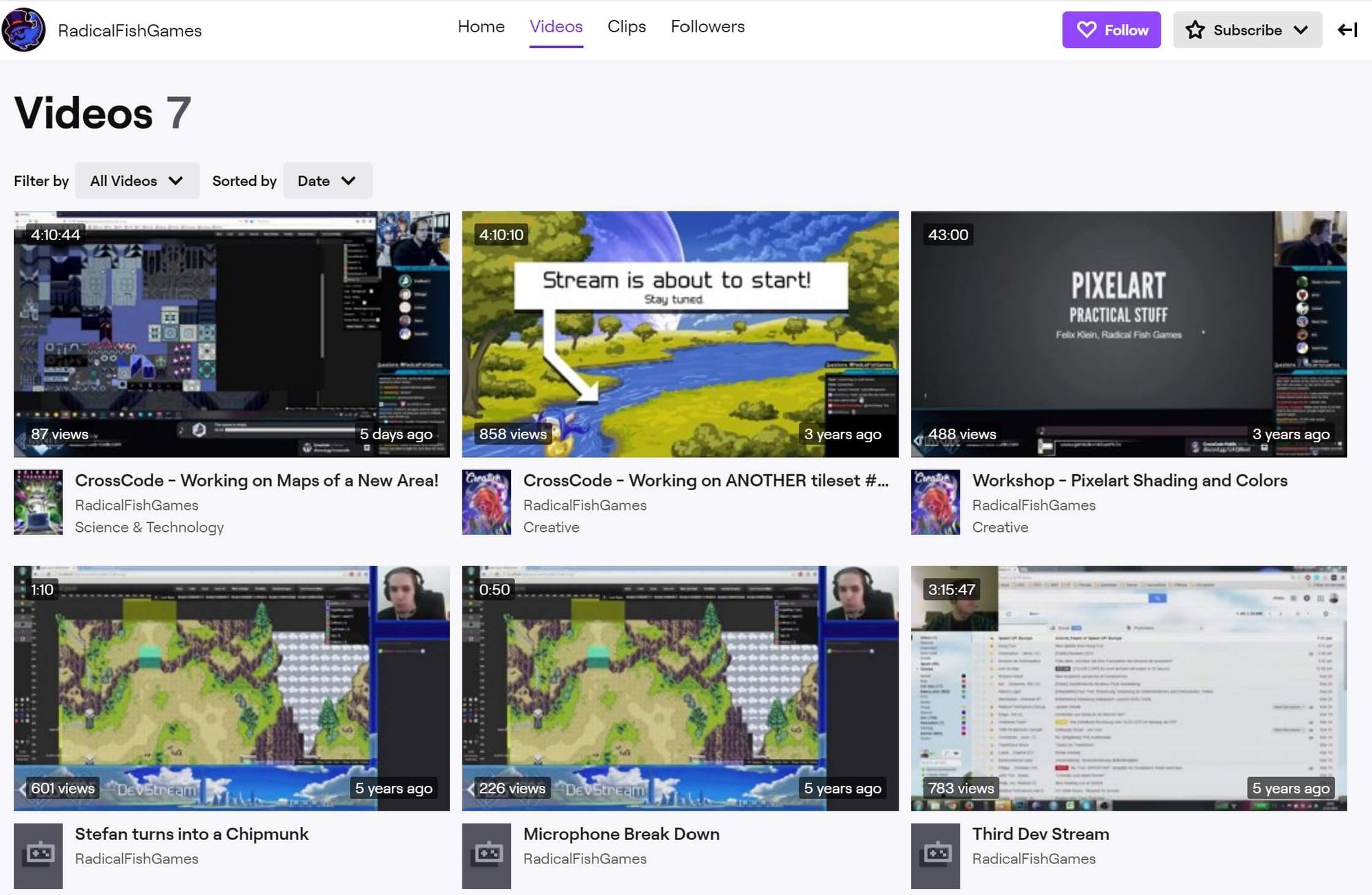 Radical Fish Games is a game development studio that streams the development of its games. They already released CrossCode, a retro-inspired 2D Action RPG set in the distant future, and are now working on their new game Project Terra. They stream every Saturday at 8 PM CEST.  Another great channel if you want to learn more about game development.
Rob Muhlestein streams about anything server-side. Think cloud native, DevOps, Linux, VIM, containers, Docker, etc. He streams for about three hours every day and interacts heavily with his audience, answering questions (or asking questions himself) as they go along.
Handmade Hero is an ongoing project to create a complete game from scratch while streaming everything as they go along. They already have several hundreds of videos, the earliest dating back to 2014, which you can browse on their YouTube channel (linked above).
Alh4zr3d is a professional red teamer and pentester who streams about everything related to hacking, InfoSec, and cybersecurity. If you want to learn more about security best practices and/or how your code can be hacker, Alh4zr3d is the streamer for you.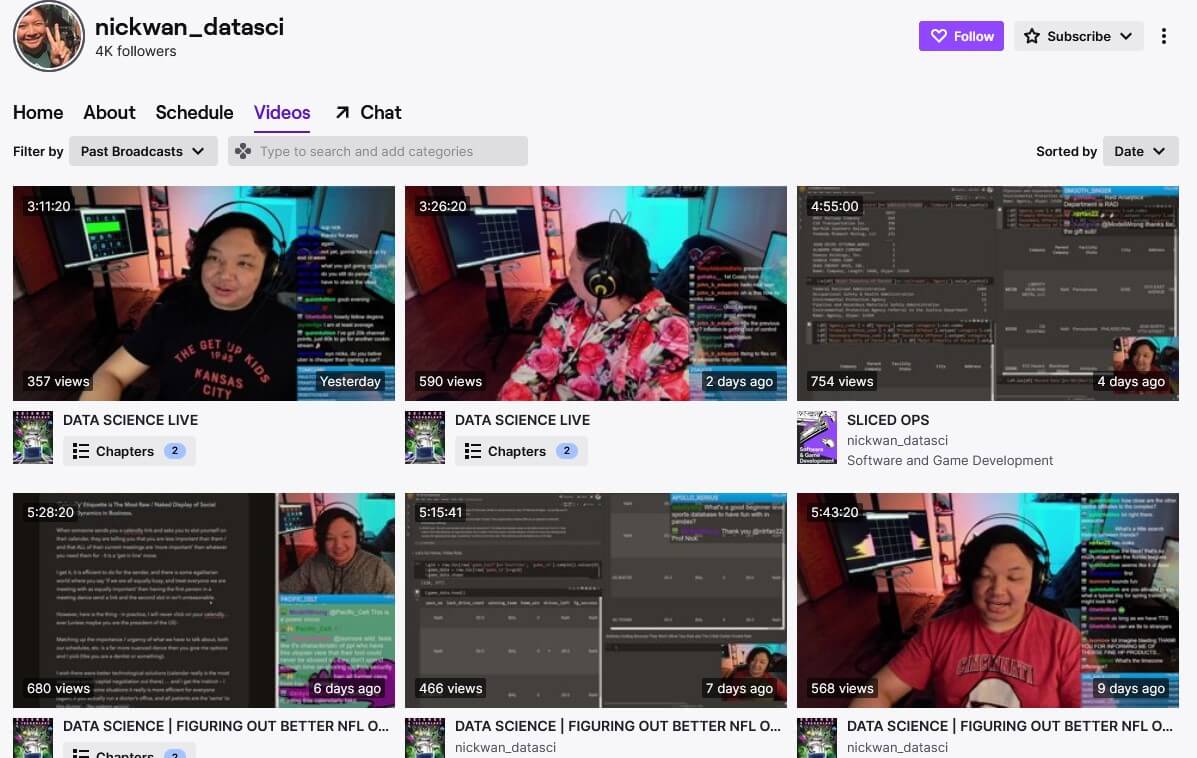 Nick Wan is the Director of Analytics for the Cincinnatti Reds who live streams Python code, particularly about sports analytics, neuroscience (he has a Ph.D. in neuroscience from Utah State), and random APIs.
CJ of CodingGarden live streams several times a week, both on YouTube and Twitch. CJ programs in a wide variety of programming languages. You can also browse his GitHub page, where you can find the repositories that he stores his code in while doing his live streams.
What would this list be without X-Team's very own Arthur Andrade? Arthur is a Senior Software Engineer at X-Team who regularly streams on YouTube and Twitch about JavaScript, React, and other front-end technologies. His streams are in Portuguese, so this one's perfect for our Brazilian and Portuguese friends.  
---
And that's it: 15 live code streamers on Twitch and YouTube. Of course, there are many more. You can discover many great streamers by browsing through the Science & Technology channel on Twitch. For now, however, these 15 streamers should be plenty to keep you busy.