The biggest difference between office work and remote work is that remote work requires a company to be more intentional about the way they design their processes. An office company can get away with an informal and unwritten process because everyone's in the same place and new employees naturally adopt the implicit ways in which their more experienced colleagues work.
It works differently for a remote company. New employees can't easily understand how things are done unless they're explicitly written down. The act of diligently writing down thoughts, ideas, developments, and processes is extremely important for a remote company to function efficiently.
But X-Team has taken it a step further. We've been a remote company for decades, and we've spent much time thinking about how X-Teamers can communicate organically with each other. How knowledge can move fluently from one to another.
The answer is both simple and unique: Slack journals.
What Is a Slack Journal?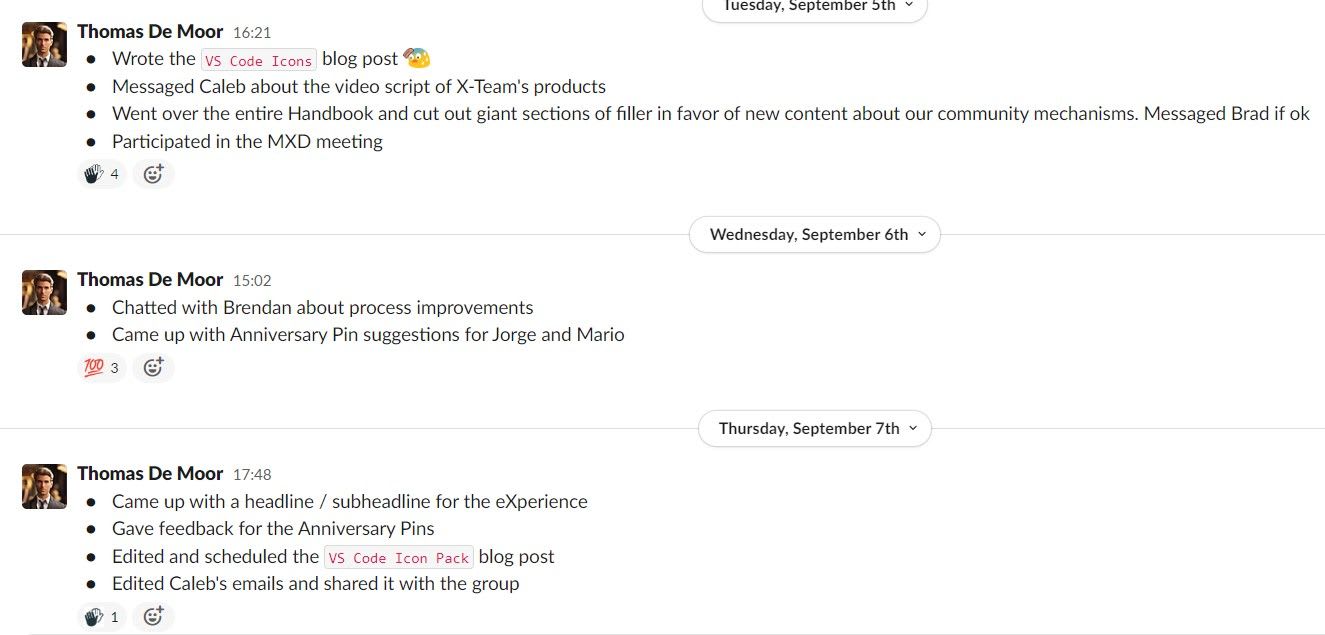 When you join X-Team, we create a Slack channel for you that's usually called something like #journal-name_lastname. This is your X-Team journal, and it's a work/life journal where you can write down… whatever you want, really:
Tasks you want to complete that day
Thoughts about a particular problem you're working on
Work that you've completed that day
Knowledge that you don't want to forget
How you're feeling that particular day
Why Use a Slack Journal?
As Shakespeare would probably say, "The Journal Is Your Oyster." It's not mandatory to use it, but we highly suggest you do. Not only is it a great way to write down what you're thinking about, and clarify your thinking as you do so, but it helps the people who you've invited to your channel stay updated about you and your work.
For your colleagues working on the same team, who may start work when you've already completed your day, it's a great way to understand the tickets you worked on, what problems you ran into, and how you solved those problems.
It's also where you can record possible frustrations with the company you're working for. Are communications slow or erratic? Are projects improperly scoped? Do you feel as if you're not being given what you need to do your job? Write it down in your journal, and those invited to your journal will reach out to help.
Here's what's crucial: Your Slack journal is a safe space. Those invited to your journal always have your back, because it's in our best interests that you have a great work environment, so you can always be at your best for X-Team's partners. The better we know what's going on, the earlier we can catch problems, and the more you'll enjoy your work.
How Do I Start?
First off, don't be nervous. Your Slack journal really is yours. There's no defined way to write things down. If you want to create a Slack canvas for every new workday, great. If you want to use bullet points, great. If you want to write long paragraphs, great. Do as you please.
Still, here are few journaling techniques for you to get started:
Introductions. For your very first post, introduce yourself. Who are you? What are your usual working hours? Where do you work from? What are your hobbies? Don't be afraid to ask questions too. Those invited to your channel will answer.
Today I Learned (TIL). One specific thing you learned that day. A debugging technique. A handy bash trick. How a colleague prefers to communicate. It could be anything. Don't be afraid to write it down even if it seems obvious. Trust us, what may seem obvious to you won't be obvious to many others.
Reflections. Knowledge doesn't always come in the form of small, precise TILs. Sometimes, you want to reflect deeply on something you've observed. For example, the pros and cons of that switch you made from this framework to that framework. Or the things you'd do differently. Or your opinion on a clean code principle. Your journal is perfect place for this too.
Most importantly, have fun with it. Be conversational. Take it easy. Act as if you're speaking to a colleague friend in the office. Your Slack journal is only as valuable as you make it. If you put in the tiny effort required to maintain it every workday, soon it'll become a treasure chest full of your thoughts and ideas.