Any remote company worth its salt knows that you cannot copy the conventional ways of doing things in a physical office to make them work remotely. If you're trying to organize an office Christmas party, you cannot simply throw everyone on a Zoom call with permission to drink. It's the recipe for a snoozefest.
Instead, you need to rethink your Christmas party so it's not a company chore, but something people look forward to and desperately want to attend. How? That's up to you, but X-Team does it by turning Christmas into X-Mas: A spectacular livestream with incredible music performances, cinematics, Vault drops, shoutouts, and more.
This year was no different. Time for a summary of X-Mas 2022: Ready for Anything.
DSharp Goes NEXTLVL
The X-Mas livestream began with an epic performance from DSharp, a popular American violinist, DJ, singer, and producer with over 1.4 million subscribers on his YouTube channel. Among the many songs he played was an X-Team exclusive original cover of the Stranger Things remix of Running Up That Hill (originally by Kate Bush).
DSharp also performed as Leon Grey from the X-Team cinematic universe, a bounty hunter trapped in a universe recently harvested by ShadowCorp. This tied in nicely with the cinematics later in the livestream that deepened the X-Team lore.
The Year We Just Went For It
After DSharp's performance, we reviewed the year. 2022 had not been an easy year for anyone. There was war, inflation, layoffs, and more. It was another year of discomfort, fear, and anxiety. But if 2020 taught us anything, it's that we can overcome much more than we may think. For X-Team, 2022 became the year we just went for it:
We released three music singles that now have over a million streams
We walked over seven million steps to raise thousands of dollars for refugees
We organized our biggest in-person X-Summit yet
We organized a months-long X-Teamer Legends competition
We stayed a carbon-neutral company by purchasing carbon offsets
We grew exponentially despite tech layoffs everywhere else
The Emotional Bit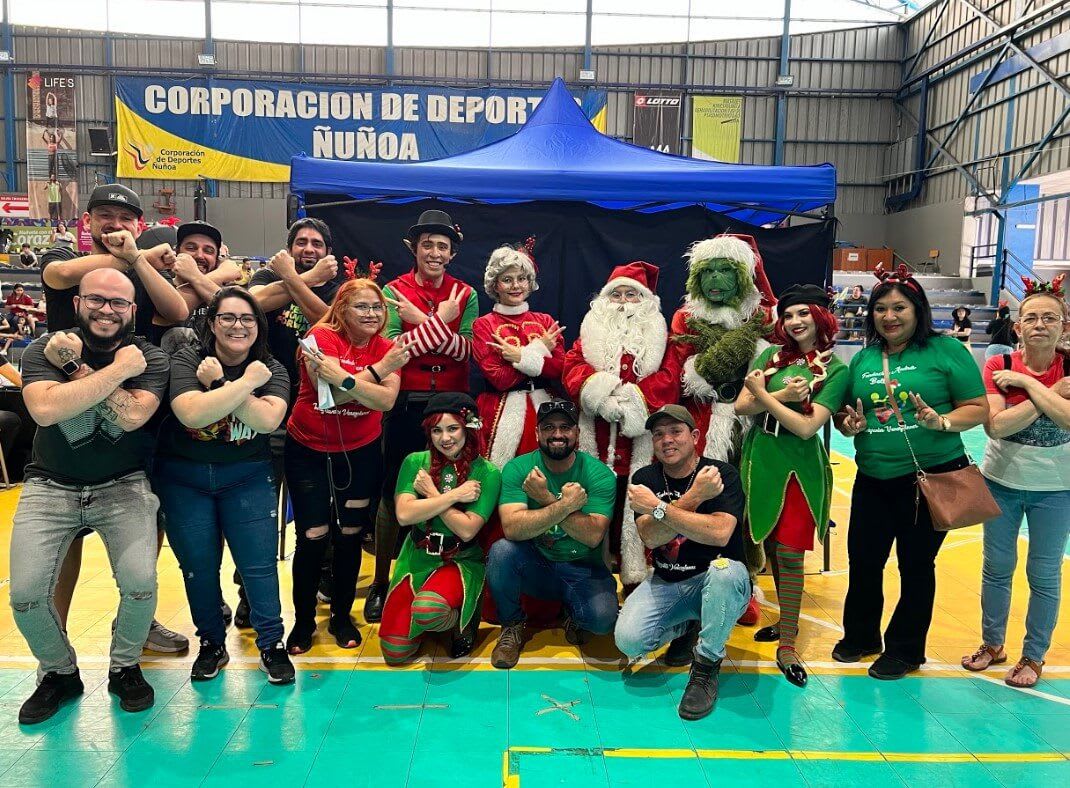 Just like last year and the year before, this year's X-Mas came with Hero Drops, where X-Teamers give back to the community they're a part of. After all, not everyone has the chance to work remotely and live a life where you don't have to worry about food or financial security.
That's why we gave X-Teamers the opportunity to help those who aren't fortunate in life or are currently going through a tough period and organize something so they too can have a good and beautiful Christmas. This year, we had three Hero Drops:
Via the E-VEN Project, we bought hundreds of books, low-tech screens, and water filters for kids from rural areas in Venezuela that have very little infrastructure for transportation and clean water. We also covered half a year of rent for a young student who had dropped out of school because his mother had lost her job and struggled to find proper housing.
We organized a traditional Venezuelan Christmas party for the many Venezuelan child refugees who traveled all the way to Chile through the harsh Atacama Desert. There was an inflatable castle, face painting, many gifts, and lots of food, so over a hundred kids could have a wonderful Christmas.
We sent a truck of two hundred care packages to an X-Teamer in Brazil, who gave out the packages to those in need in the weeks leading up to Christmas. Vamo dale!
This part of the livestream is always easily the most emotional bit. It's tough to see that there's still so much suffering in what should and could be a wealthy world, but it's also an important reminder that any individual can make a difference in people's lives. That's what X-Teamers did over the last few weeks for hundreds of families with these Hero Drops.
A Career Lifestyle Company
The livestream was over an hour and a half, so there was much more than what was summarized above. But it ended with X-Team's vision of becoming the world's first career lifestyle company.
We've been a remote company since 2006, but being remote is no longer a differentiator when compared with other remote-first companies. Season 9 was about going NEXTLVL and, for us, that means building a company where your career can fuel your lifestyle and vice versa. A company that lets you build the life you want.
Besides. Where else can you get a duck like this?