X-Outposts used to play a crucial role in the X-Team community. Every month, X-Teamers could choose to spend a few weeks in a new place to get to know each other while combining their love for travel with getting things done. The X-Outposts were always epic adventures.
Our last X-Outpost ended in December 2019. Then the world shut down. For two long years, the pandemic and the ensuing travel restrictions made it impossible to organize an X-Outpost. We bowed our heads and worked hard from home, eagerly awaiting the return of the X-Outpost.
And now... the wait is over.
The X-Outposts have resurrected! We have just completed our first one in the beautiful city of Florianópolis, Brazil. This was an X-Outpost like no other. Because it had been such a long time, all X-Teamers were excited to travel and finally meet each other in person.
Florianópolis was a natural choice for this X-Outpost because many X-Teamers already lived on Santa Catarina, the island of Florianópolis. It has great infrastructure and many activities for all kinds of people.
Over twenty X-Teamers and their plus ones gathered on the Magic Island. We coworked in the Floripa ImpactHub, which is located in an area called Beira Mar, next to the seashore with beautiful views.
From day one, the energy of the group was incredible. All X-Teamers were excited, energetic, and ready to accept whatever adventure would be thrown their way. During weekdays, we worked, enjoyed some amazing food (brigadeiros 💘), and did some light activities in the neighborhoods around our coworking spot.
Our EPIC activities were planned for the weekends, but we still adventured beforehand: Henrique Paula, our Brazil Events Lead, organized many activities, including some games of beach volleyball, where X-Teamers learned to never underestimate the power of sand.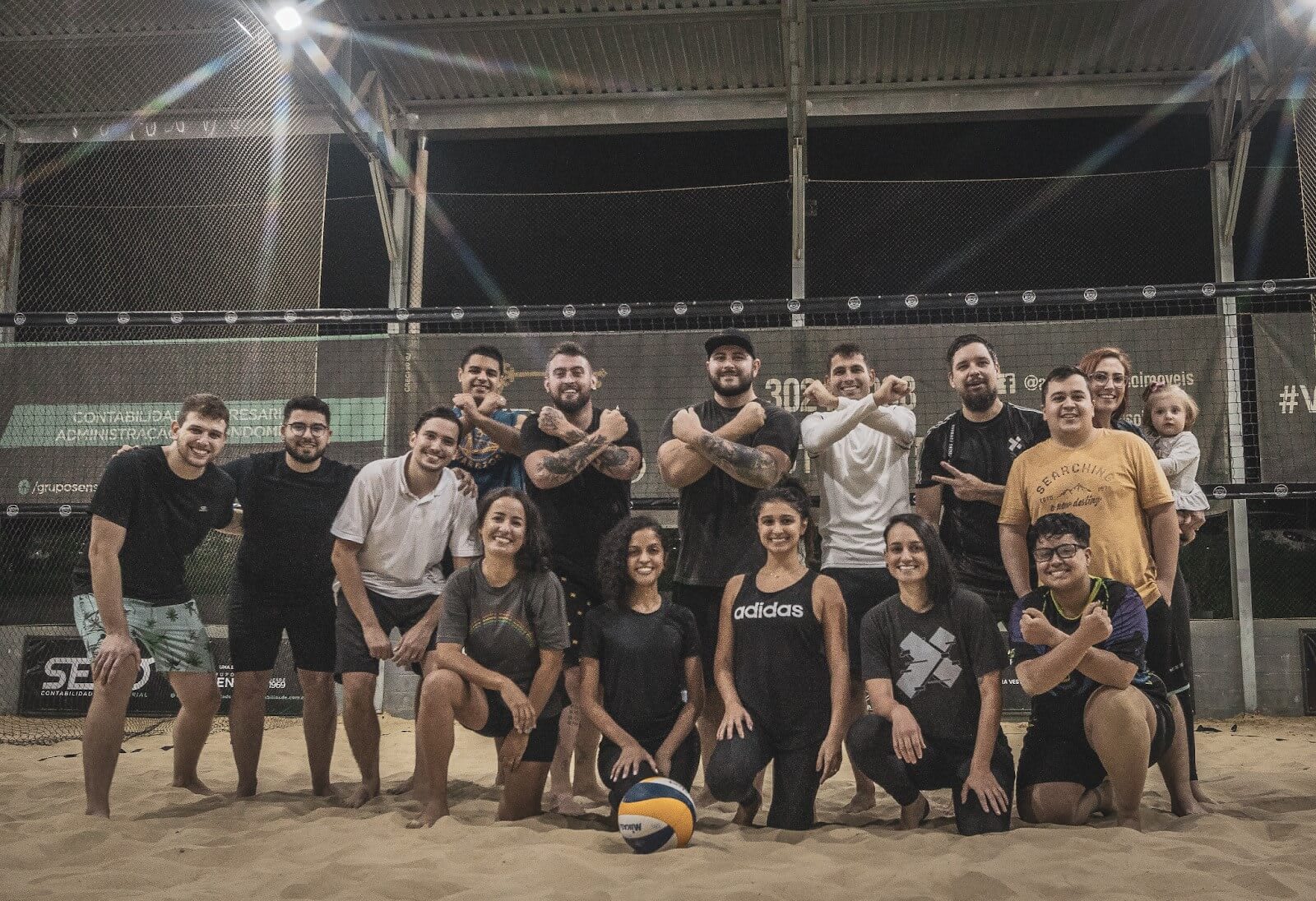 A few X-Teamers challenged themselves on their first hike: we did Trilha do Gravatá on a breathtaking day and learned Renato Estranho's motto, vamo dale!, which was later reproduced by our CEO Ryan Chartrand in an X-Team stream (albeit with an Italian accent).
We also played the board game Codenames, did escape rooms (we died to the serial killer), more hikes, and more beach volleyball. All these activities were really fun, but the most anticipated events happened during the weekends: the EPICs.
To start off, we did a barbecue and a boat tour in the northern waters of Florianópolis. We dove in greenish waters of natural pools in remote regions near the island. What a great experience.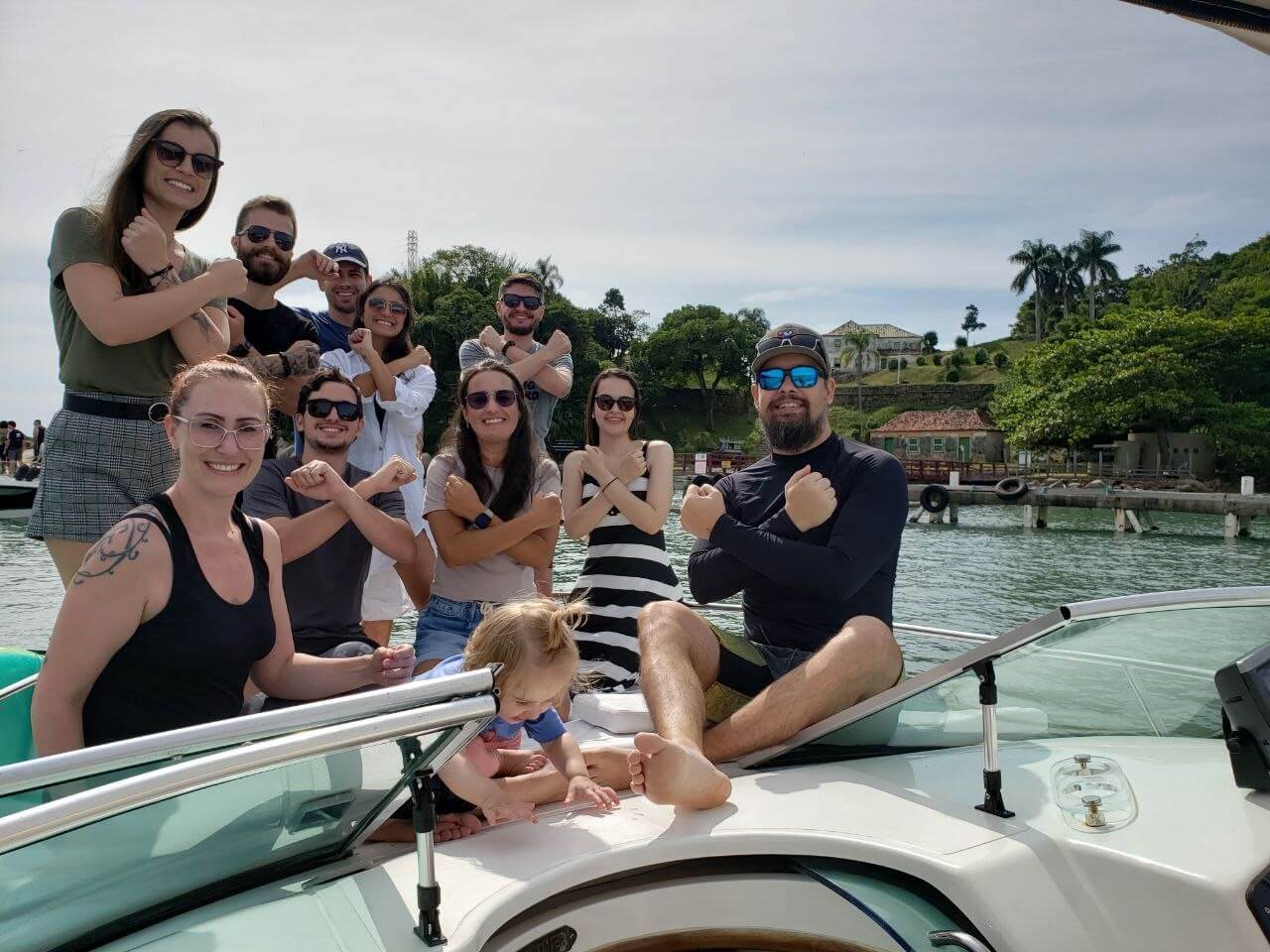 After the boat tour, some X-Teamers went back to the X-House to play more board games (there's always more time for board games) while other X-Teamers went to the pub. Everyone rested because the next day we'd have two more adventures:
A two-hour hike to Costa da Lagoa for a delicious seafood lunch in a restaurant only reachable by hike or boat.
A fierce kart race in the north of the island.
The goal of the first X-Outpost in years has been achieved: Get X-Teamers together and have lots of adventures, unforgettable moments, great food, and lots of fun both for those who didn't know Florianópolis and for those who have lived here for years. Thank you so much to all X-Teamers who were there and made this such a great adventure. On to the next one!