First impressions matter. How you onboard a new developer is an immediate indicator of your company's culture. Do it poorly and your newly hired developer might start looking for a new job right away. Do it well and they will be happier, more productive, and much more likely to stay with you for years on end.
It might seem as if onboarding a remote developer adds an extra layer of complexity to the onboarding process, but we believe the opposite is true. There's no organic onboarding a remote developer. You can't awkwardly wait in a hallway for someone to pick you up. You won't bump into colleagues walking around the office. There are no drinks to get to know your colleagues after work.
Remote companies need to be intentional about their onboarding process, and that's a good thing. In exchange for some upfront work and thought, you'll have a scalable, documented way to onboard your remote developers.
X-Team has been a remote company for 15+ years. Because of technological developments and a growing community, our onboarding process has been through a few iterations. But there are a few elements that have stayed the same over the years.
Welcoming New Hires Into X-Team
X-Team prides itself on having a vibrant, active community. But we realize this can be quite overwhelming for a new developer. So we use Slack workflow automations to ease them into our community.
The first step of that workflow is a link to a YouTube playlist that takes them through the various aspects of their role and our community. It talks about payment, Unleash+, our Slack journals, the X-Team Seasons, and more. The very basic requirements to get someone going.
Of course, people learn in different ways. So we also provide new hires with a comprehensive handbook that goes over aspects of the X-Team community in much more detail. Most importantly, it's where new hires find the X-Team core values, which are:
Ownership. X-Teamers take responsibility of their projects from conception to completion. We are committed to what we do, uphold a high bar of quality, and code like the world is watching.
Active communication. Contrary to what's often believed, remote work requires you to communicate more, not less. We actively encourage our developers to professionally speak their minds and to do so often.
Compassion. X-Teamers are from wildly different religious, political, economic, and social backgrounds. It's one of the reasons why we have such a vibrant community. We respect each other's beliefs and help the communities we live in as best we can.
Open to learning. Developers work in an industry that moves at lightning speed. That's why we encourage X-Teamers to keep on learning – the Unleash+ budget was in part created for this purpose.
Proactiveness. X-Teamers are unblockable. They can keep working even if they don't have an immediate answer to a particular question. No X-Teamer needs their hands held. Instead, X-Teamers continuously ask themselves "what can I do next?"
Once an X-Teamer has gone through the videos and the handbook, they schedule in a call with Ben, who helps every new X-Teamer through their onboarding. He's their first point of contact if they have any questions. During the call, Ben reiterates a few of the important points covered in the videos and the handbook, and – depending on their hobbies – introduces them to the appropriate Slack channels.
While Ben is an X-Teamer's first point of contact, there's no way he'll be their only point of contact. From the moment a new X-Teamer is announced on our Slack channels, they'll be inundated with hellos and greetings from all corners of the world. In particular the Brazilian, Dominican, and Polish sub-communities of X-Team scoop up new hires faster than a Dyson hoover.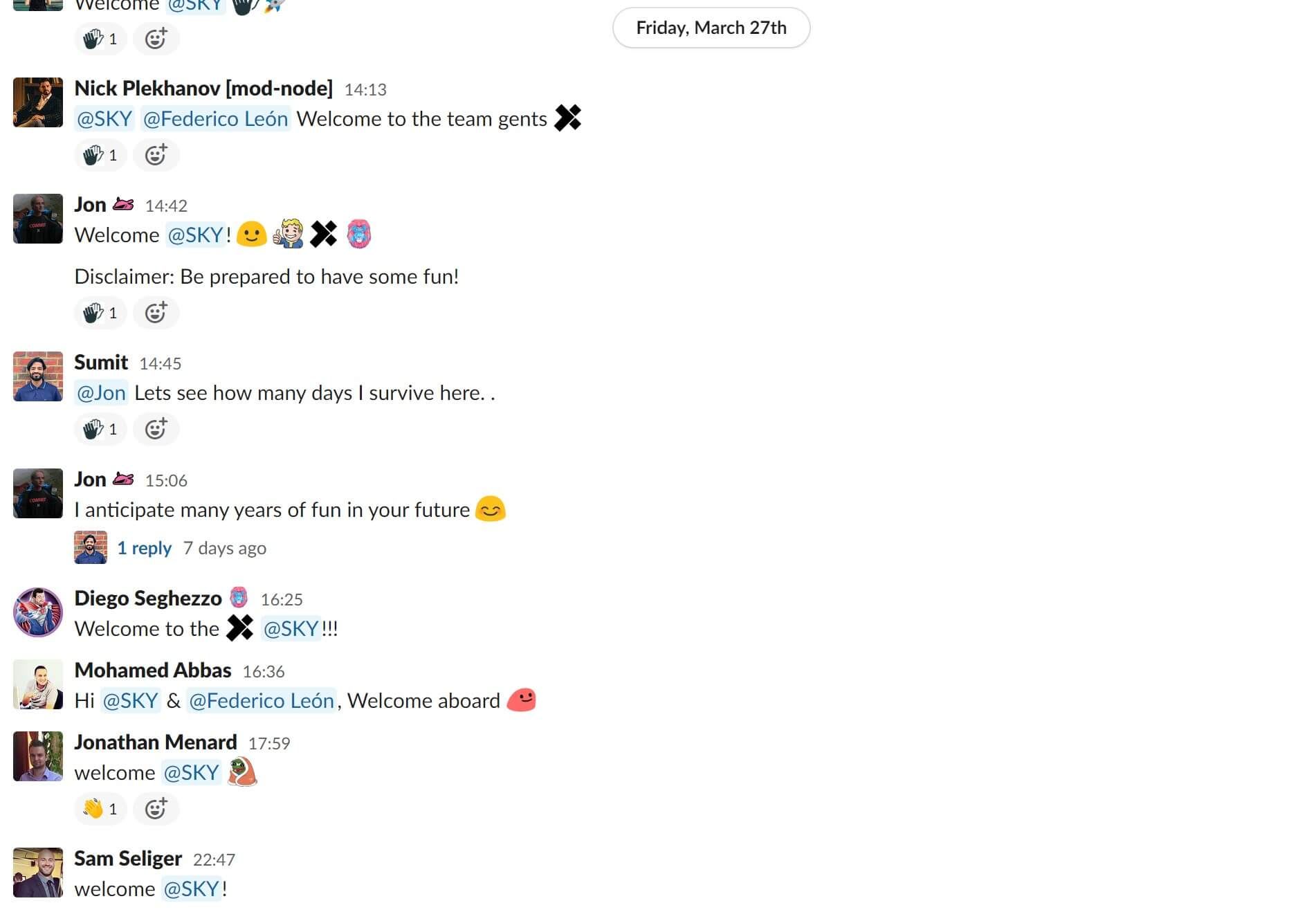 Additionally, given that X-Team developers work for brands such as Kaplan, Twitter, and Fox, we make sure all new X-Teamers can ask questions to an X-Teamer who's experienced with the partner they'll be working with. At every step of the way, they should feel as if there's someone they can turn to with questions about the job, the X-Team community, or anything else.
One other aspect that X-Team considers important, but that is often neglected in companies with remote workers, is motivating and inspiring your employees. While people get inspired in many different ways, we found video to be the most effective medium at getting the largest group of people excited about something.
Many of our internal initiatives are introduced through video. It's an easy way to inform and inspire X-Teamers and it only takes a few minutes (depending on the event – the livestream videos for our biggest annual events can go on for much longer).
It's part of our remote strategy because we tend to forget that there are moments in an office where people get motivated because they're physically together. Such camaraderie and excitement do not come naturally nor easy for a remote-only company, which is why we use video to intentionally create it ourselves. So far, it worked!
---
We think about important aspects of office work that create a community and recreate it in a way that plays to the strengths of remote work. On top of that, we try to come up with new ways to make the remote experience even better.
A remote community will only stay active when the proper foundations are in place and when it's continuously nourished. That requires an intentional strategy, and we hope that the above has given you some insight into that strategy when it comes to onboarding remote developers.
Like what you read? Feel free to share on social media using the buttons above!