Who would've thought my first X-Team Christmas party would be on the 13th of December? On a video stream with over seventy X-Teamers? In the middle of the night? I certainly hadn't thought so.
But it turned out to be a blast.
Every year come December, X-Team organizes its now legendary X-Mas Party, where X-Teamers from around the world come online (some at ungodly hours) to celebrate the year gone by and the year to come. Here's how it went...
Stretch Your Muscles, Crack Your Knuckles
There's no better way to get into the swing of a party than with a gymnast game. Enter Fantastic Gymnasts, where you need to swing a little gymnast from her pole in such a way that she flips and lands on her feet 🤸‍. It's a terribly frustrating game, because it's nigh impossible to actually land the gymnast on her feet.
Although most of the X-Teamers were on the video chat by themselves, there was a group of X-Teamers in the Dominican Republic and in Poland who had gathered for the occasion. Both teams had bought Fantastic Gymnasts and played against each other.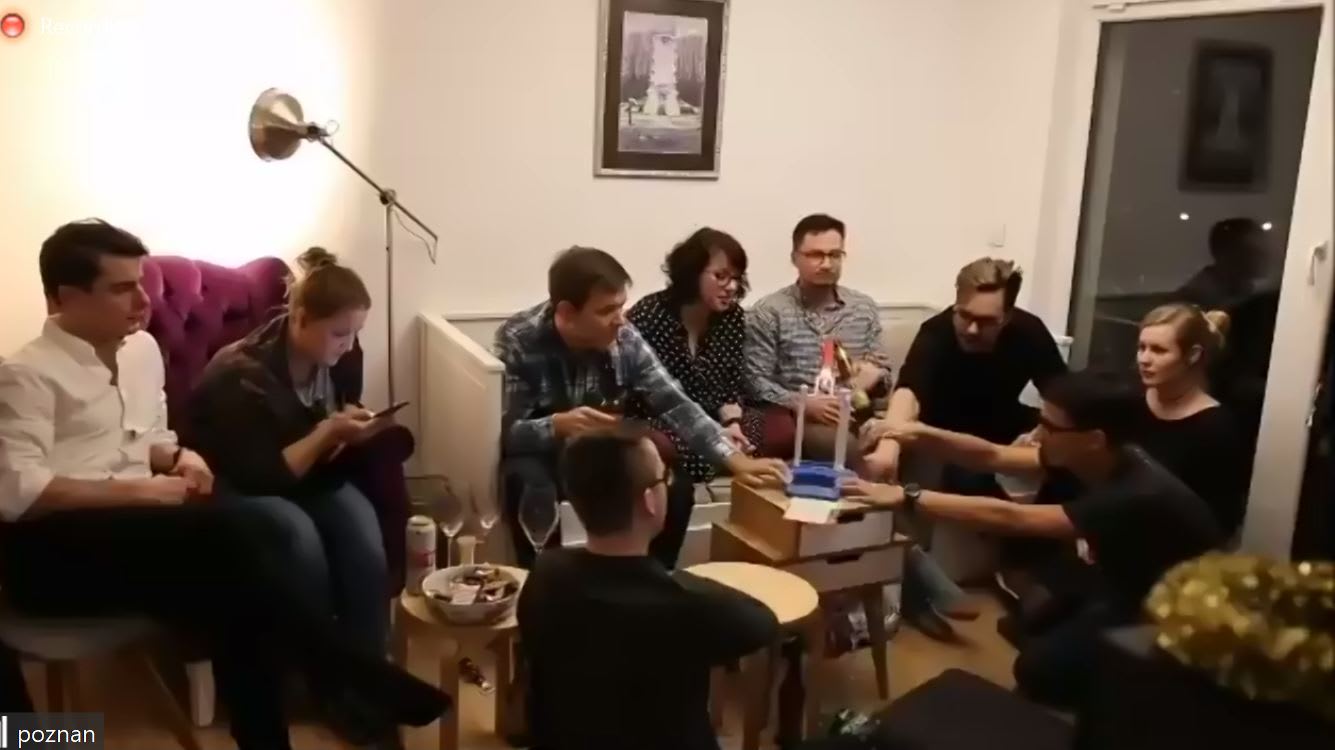 Team Poland working together to flip their gymnast on a teeny tiny table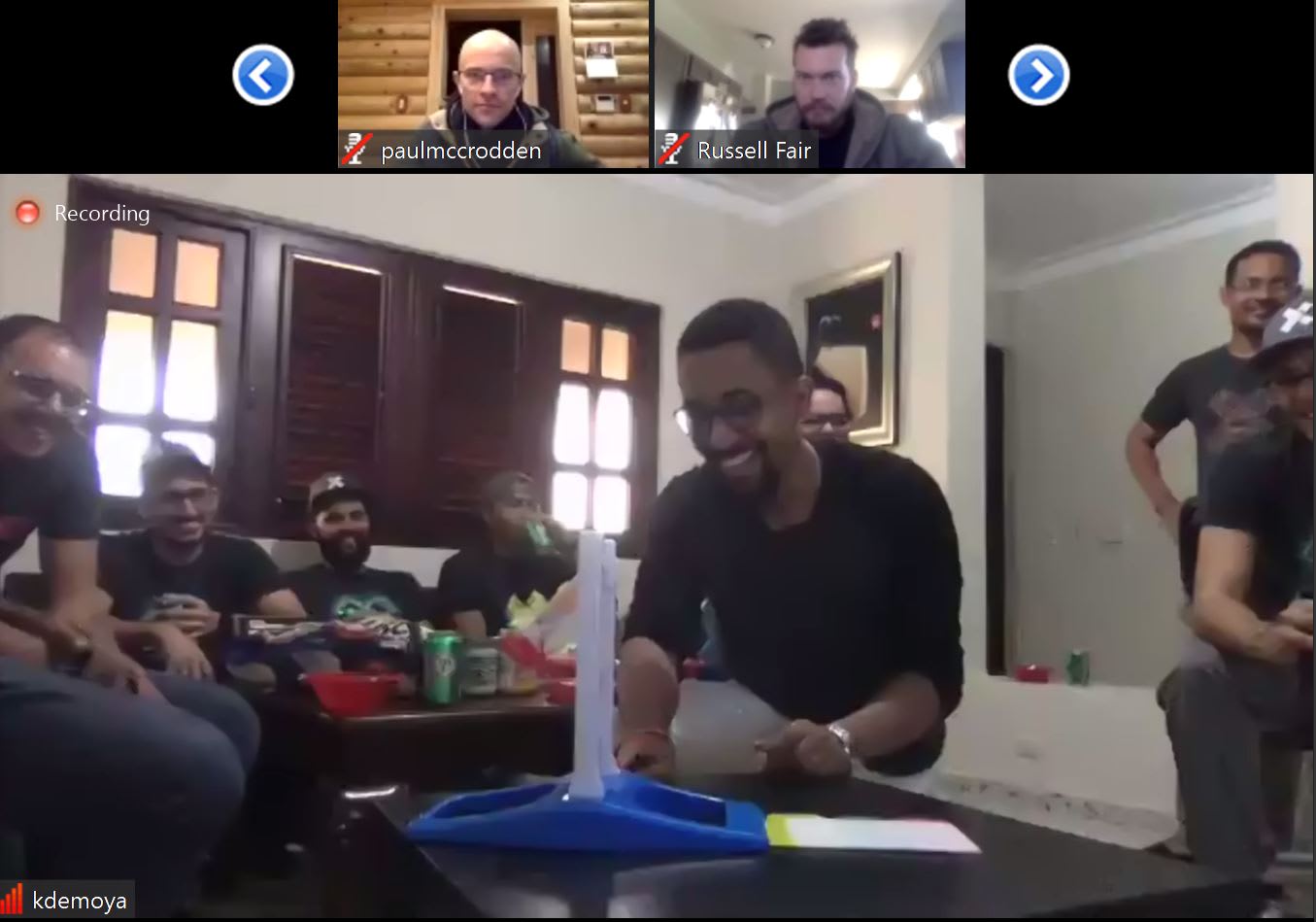 Team DR taking a more individual approach
Both teams had ten minutes to flip their gymnast, with each team taking turns. It was tense, although most attempts didn't come close to landing the gymnast on her feet. It's a difficult game. Eight minutes in, most had given up the hope of ever landing the gymnast properly. Until a sudden roar went through everyone's headphones...
Victory for Team DR! Their gymnast had headbutted the ground and had used that momentum to miraculously land on her feet. Cheers and laughter ensued.
Ever Raced a Marble?
Everyone could play the next game: a marble race. We all logged onto Twitch and everyone who typed !play into the chatbox was assigned a marble that would race across a track filled with obstacles.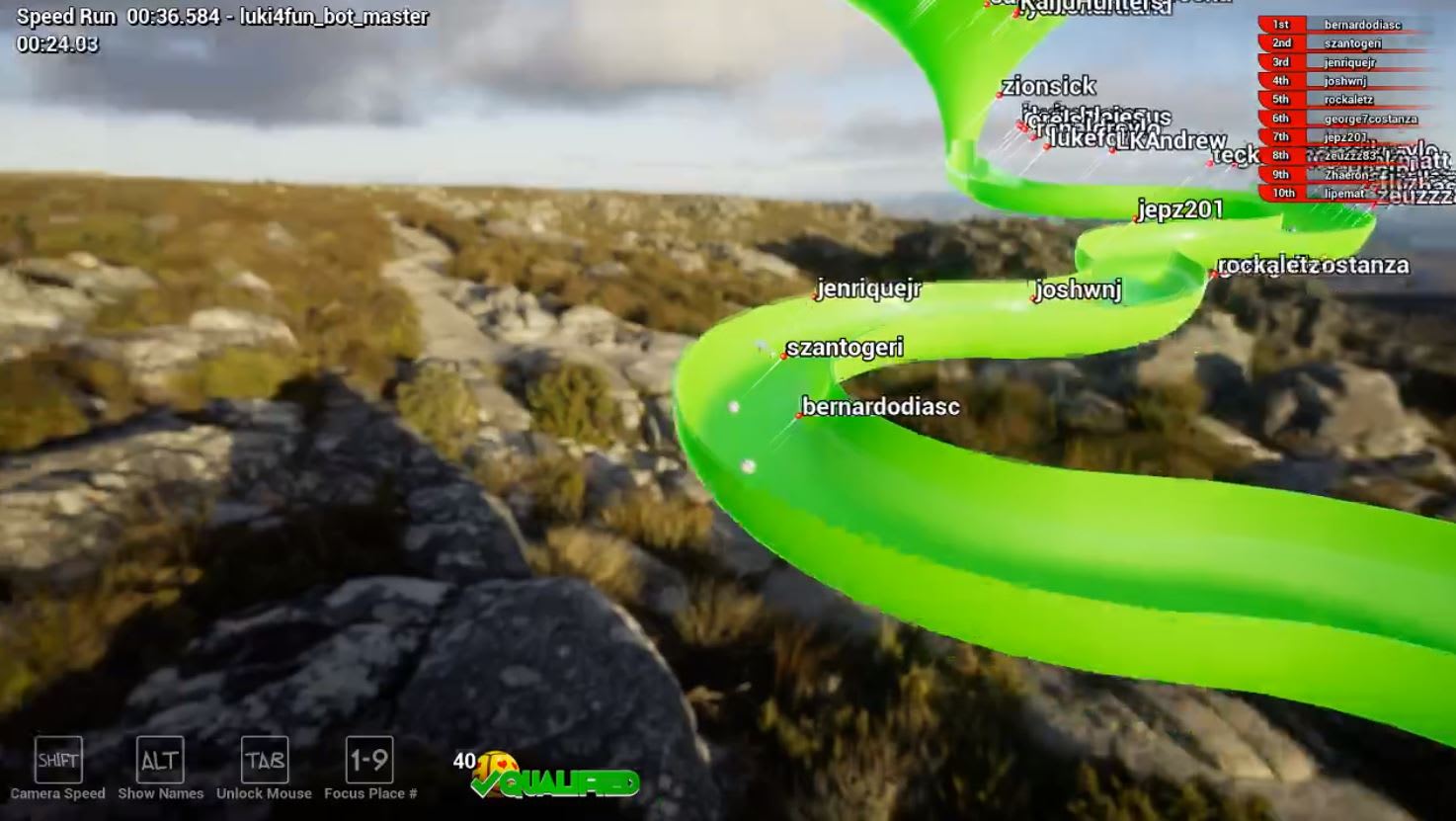 Bernardodiasc leading the race
It wasn't easy. My marble flew over the edge twice in three games, unfortunately 😢. And even though everyone could participate in this game, Team DR still managed to win two out of three races!
Thank You Time
Up next, we slowed down and took the opportunity to thank each other. Everyone who wanted could shout out an X-Teamer who they thought had made their lives easier, better, or had made a significant contribution to the project they were working on.
It was humbling to see people sending around gratitude. All too often, we're so deeply involved with projects, deadlines, papers, and spreadsheets, that we forget to lift our heads up, take a deep breath of air, and express gratitude towards our co-workers.
Fearless Forever
That was the end of the video stream, but certainly not the end of the party. Everyone hung around on Slack, in high anticipation of what would be unveiled during a livestream.
After not one, but two countdowns, the video started with a hilarious compilation of Chief Wizard Ryan Chartrand trying to organize this year's X-Mas Party.
Next came the unveiling of X-Team's Season 2: Fearless Forever. More vault items than ever before, new and exotic X-Outpost destinations, and the X-Summit: where X-Teamers gather in a castle 🏰 for a weekend of adventure.
Of course, more games were played during the livestream. X-Teamers had played and recorded games of Street Fighter and Quake, and we could vote on who would win (for those precious bounties to spend in the Vault).
The party ended with a bang. Yulia, one of our developers, had made a mobile game for the X-Mas party: Tasnilia (which you can find on the App Store and on Google Play). The X-Teamers who got to the end of the game were shipped an awesome T-Shirt with the spirit animal of Season 2: the Wolf 🐺.
In Conclusion
I was skeptical. Surely, a Christmas party where you sit in front of your webcam with 70 other people couldn't be that great. But how wrong I was. It was so much fun, and I'm already looking forward to the next one.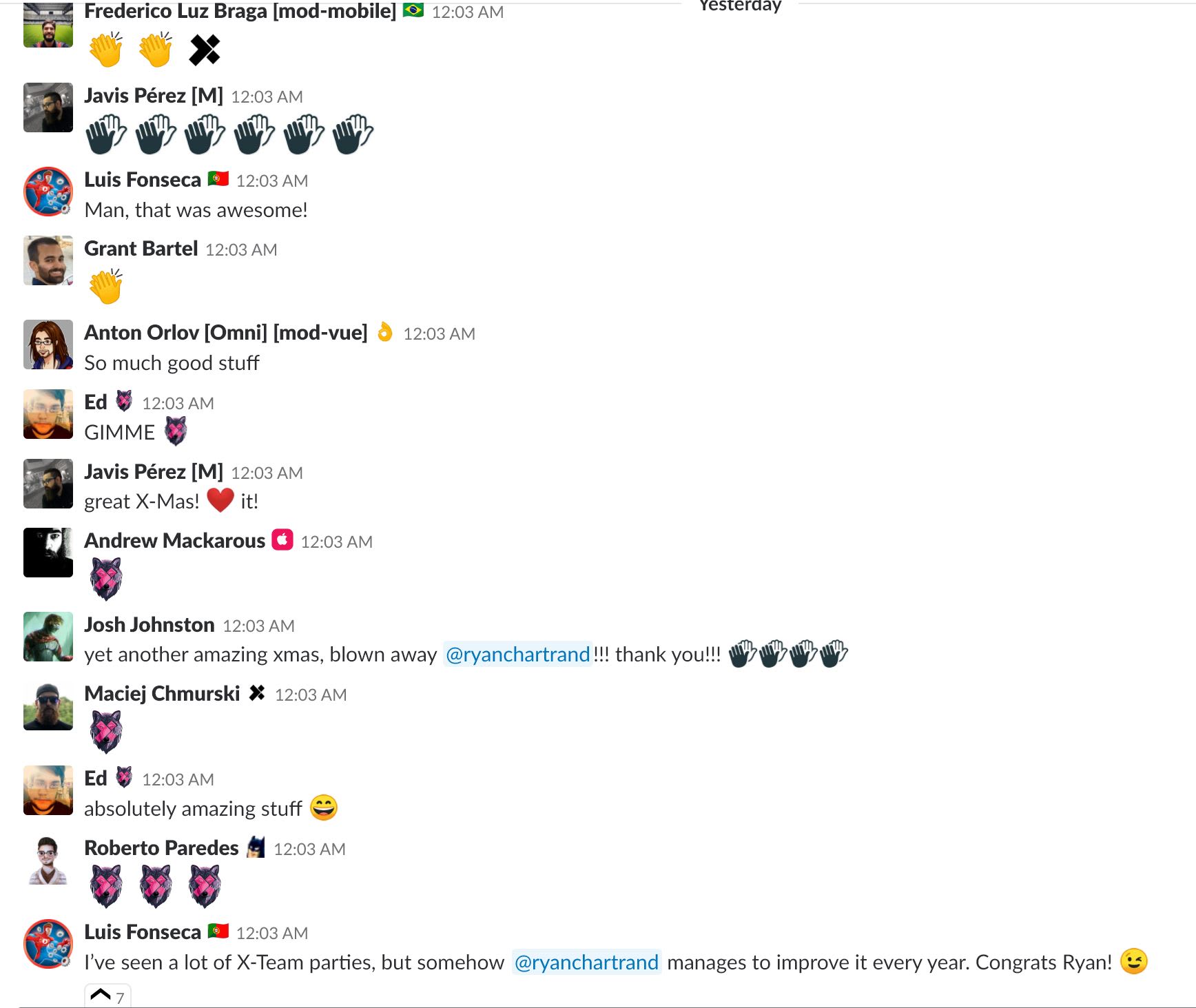 X-Team has a lot in store for 2019. Are you excited for the new year? Let us know in the comments below 👇.