Eduardo Chapola is one of X-Team's Recruitment Team Leads. He's been with us for almost two years and a half and is in the unique position to have met, in person, some of the X-Teamers he interviewed remotely. In this interview, we discuss what that was like, how his role at X-Team has changed over the years, and how he prepares for an interview with an X-Team candidate.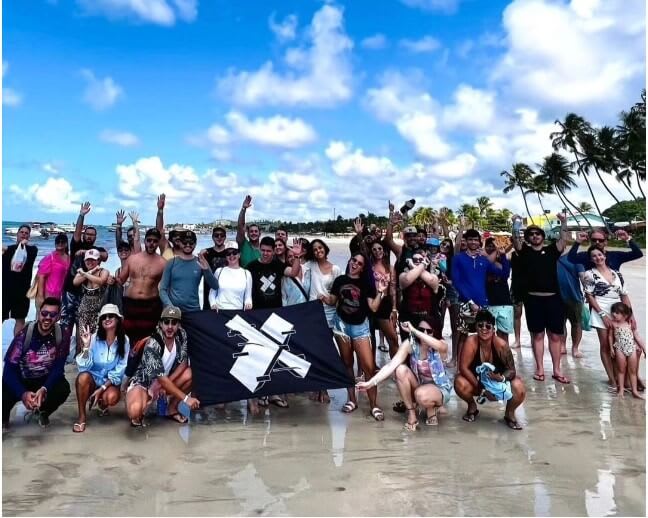 You've been at X-Team for two years and a half. Can you tell us about your role when you started and how it has changed over the years?
Of course! I began as a Technical Recruiter, which meant I had loads of meetings with X-Team candidates. I call them meetings instead of interviews because I'm not battering the candidate with questions. My meetings are easy and relaxed. We're just getting to know each other. No stress. As a Technical Recruiter, I also religiously updated our sales team and my Slack journal, something I still do today.
Less than a year in, I was promoted to Recruitment Specialist, which I did for three months before I was promoted to Recruitment Team Lead. That's what I've been doing for about a year and a half. Nowadays, my job is about working with and learning from the outstanding people on my team.
What are some of the elements that make someone stand out when you're interviewing them? What makes you think, this person could be an X-Teamer?
First and foremost, the ability to communicate clearly and concisely. That's crucial in a remote environment. Mix that with the right energy and interest in the job, and you have the whole package. X-Team does an outstanding job of finding the right people. I'm consistently impressed with how energized and enthusiastic X-Team engineers are.
What are some of the specific things you do to ensure a candidate has a great experience when you're interviewing them?
For every meeting, all our recruiters try to create a fun, easy-going, and transparent environment. This is where we get to know the candidate and the candidate gets to know X-Team. It also helps to quickly clarify a candidate's doubts as they pop up. This helps create a good experience for the candidates we meet with.
But it doesn't stop there. As best we can, we keep our candidates updated on how their application is progressing. And, when we're not able to move forward with someone, we make sure to write feedback that emphasizes their strengths but also where we believe they can still improve. This all contributes to our candidates having a great experience.
How do you prepare for an interview? And what tips do you suggest for someone about to have an interview with you?
You want me to reveal all my secrets 😆? Jokes aside, I always read a candidate's LinkedIn profile and CV to understand their hard skills. It stops me from asking redundant questions and improves the candidate's overall experience. Apart from asking questions about their professional background, I also like asking about their preferences, hobbies, and any incredible skills they may possess that aren't directly tied to their career.
My intention is to make every meeting easy-going, candid, and joyful. I tell the candidate as much too. No candidate should ever be afraid to bring their personality to the table or talk about their favorite sports or activities. Anything that energizes and ignites their spirit is worthwhile. I also encourage every candidate to ask as many questions as they can about X-Team.
What can a software engineer do to increase their chances of being selected for an X-Team interview?
Not everything requires a complex approach or solution. If you want to increase your chances, keep it simple and message our incredible tech recruiters (including myself) on LinkedIn. Most people create a profile on our Jobs platform, and while that's a good first step, a quick message doesn't take a lot of work but can dramatically increase your chances. Simple, yet effective.
You recently met some of the X-Teamers you interviewed during an X-Outpost. What was that like? What did they say about X-Team?
To finally meet X-Teamers in person is an unforgettable experience. When you speak to the people whose selection process you led, you're almost certain to develop a strong bond. There are so many X-Teamers who I now call friends because of this. They usually tell me how much they love X-Team and how our events and collectibles keep getting better. It really is a priceless feeling.
---
Do you want to join X-Team? You can! X-Team is always looking for experienced software engineers. Create your candidate profile today.