X-Team's Second Season (Wired for Adventure) is coming to an end. As such, we wanted to feature an X-Teamer who's a real adventurer, who pushes his boundaries to experience the world in full glory, dangerous or not.
Jarek Romaniuk has been an X-Team developer for just over a year, and is an avid mountain climber. Recently, he took part in an avalanche training, which made me curious to know more about his climbing experience and what he learned from the avalanche training.
---
Jarek, you took part in an avalanche training in the South of Poland with a team of mountain emergency experts. Can you give us some background? How did you end up doing that?
First, I'd like to mention my friend Tomek, who's been my inspiration and a source of personal motivation on our trips together. Tomek and I have been hiking together, both in summer and winter, for the last two years.
But during our second trip, something went wrong. Tomek started behaving weirdly. We were at the "Orla perć", holding chains that kept us from falling off a 300-meter cliff, and Tomek told me he suffers from fear of heights and fear of space. He urged me to keep talking to him - a technique to keep him from thinking about his fears.
I'll be honest, I knew next to nothing about hiking at that time. He was supposed to be the experienced one, and there he hung, paralyzed with fear. But I kept talking to him and a few minutes later the fears went away and we could continue hiking.
He's a man of faith and always prays before every trip. I realized how much effort it must cost him to prepare himself for these trips, which in itself became incredibly motivating for me. I mountaineer because of the astonishing views, but also to observe what people can achieve when they exercise willpower.
This recent avalanche training helped me notice all the mistakes I was making before, as well as the amount of times we were risking our lives and hadn't realized it. It was a strong signal for the both of us that we need to learn more if we want to continue our climbing trips.
It's quite a unique training, because it's based on the experience of mountain emergency experts: TOPR. It took place in the most beautiful location in the whole of Tatra: the Valley of five ponds. We stayed there for 3 days in shelter, from which we had direct access to more than 20 peaks.
Waw, that's a super inspiring story. How does the training work? Do they simulate an avalanche?
They don't. Causing small avalanches for a training is too dangerous. The stats are brutal. More than 90% of people taken by an avalanche die. If you've been under the snow for 18 minutes, your chances of survival are still 91%. But then it drops quickly. At 35 minutes, it's 34% and after 130 minutes, we're down to 7%. Any longer and you're likely to suffer from deep hypothermia.
Of course, the rescue team knows this and will immediately apply heart massages when they find you, as well as warm up your body. But it usually takes them more than 15 minutes to get to the rescue area, right when the chances of survival starts going down dramatically.
The team locates you from their helicopter through your phone and a recon sonar. Reflectors in clothing help too. When the helicopter lands, they have a dog to help them and an avalanche tool set with a beacon, a shovel, and probes to help find you. The tools are quite good, as they help the team find out to the exact square meter where you are, then use the probe to check and the shovel to start digging.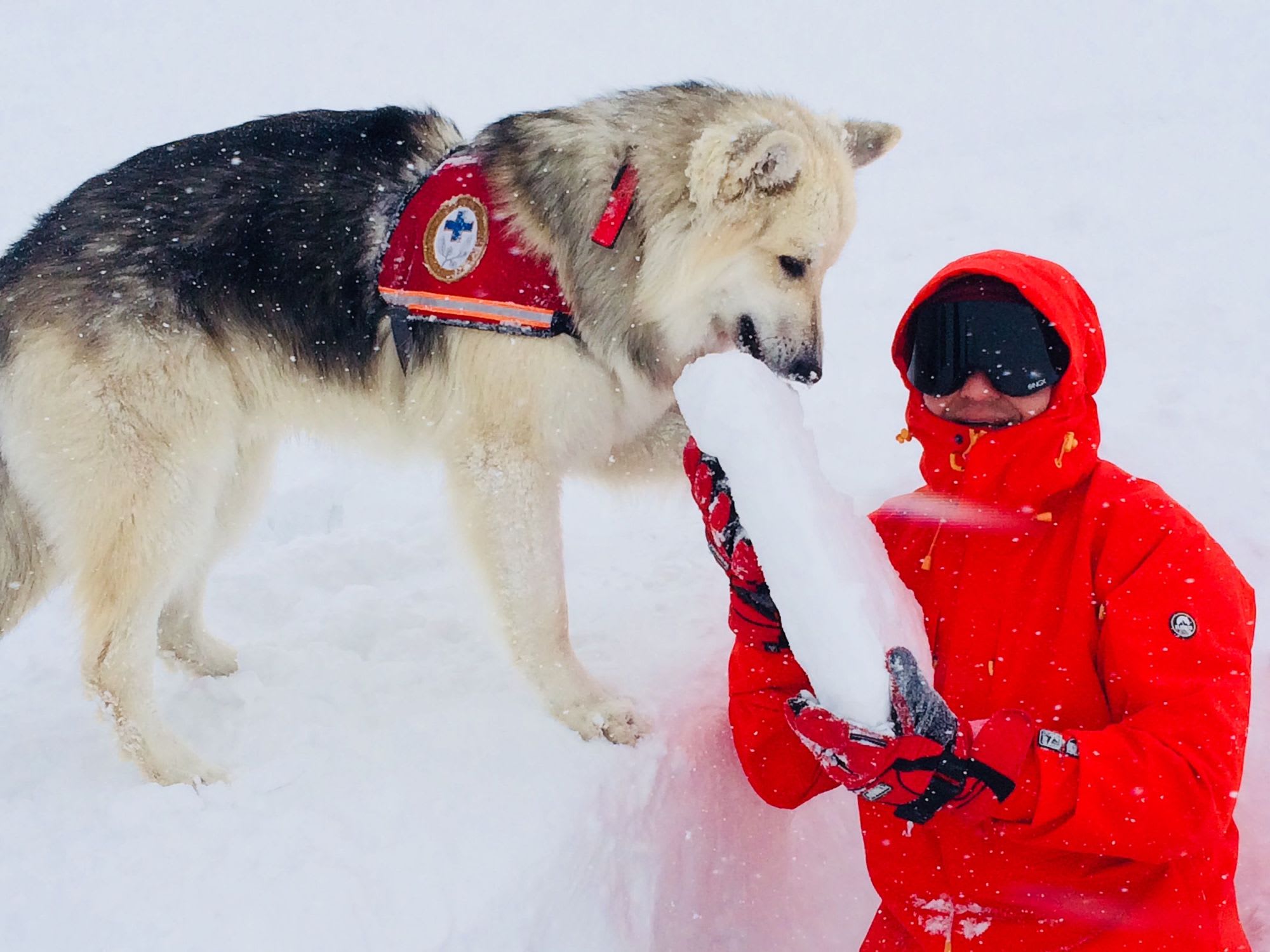 Time is the most important survival factor. Forgetting any element of the survival kit doubles or triples the time it takes to find someone and dig them out. Climbers often have the kit, but then they forget to turn on the beacon, or their batteries are discharged.
It's the main reason why TOPR decided to organize this training and start involving people who witness an avalanche, so they can start their rescue action immediately and reduce the time it takes to help people.
That sounds frightening to me. Was the training scary?
We were in good hands. The training took place at a frozen lake. We had perfect training conditions: heavy snowfall, winds up to 140 km/h, and a max visibility of ten meters. Traces in the snow disappeared after a few minutes. We were only 100 meters away from our shelter, but it was so easy to mess up directions. We were also unattached, but with backpack and shovel.
In these conditions, our 50 kg training mannequin was found 200 meters off on the other side of the lake. Not attached, and with gloves, hat, and goggles blown off. Without these pieces of clothing, your body temperature drops immediately.
It helped me realize how serious things get when something goes wrong. Wild mountains during winter are not a friendly environment for humans.
Certainly doesn't sound very friendly. What would you say are some of the key tips for climbers to avoid avalanches?
The #1 tip is to check the avalanche risk level and stay home if there's even a remote chance of an avalanche. Otherwise, I'd recommend beginning climbers to:
Create a plan for your trip and always prepare a plan B. In case conditions are bad, stay at your shelter or go home.
Use this risk reduction calculator.
It never hurts to call the rescue team information service and tell them about your trip. They'll give you tips and might help you adjust your plan appropriately.
Don't be too ambitious and don't do the trip alone.
Always wear an avalanche kit. You don't need to buy it, you can rent it too. And make sure it works and that all the members of your team know how to use it. Particularly the avalanche air backpack. It reduces your risk by 90%.
Take climbing irons with you.
Adjust your plan to accommodate the weakest team member.
And here are the things I recommend taking with you in your backpack:
A thermos with hot tea and sugar.
Dry snacks, chocolate, and sweets.
Hand and feet chemical warmers.
A thermal blanket.
Extra warm clothing, of course.
Extra gloves, hats, and socks.
That's some excellent advice right there. Thank you so much, Jarek. Best of luck with your future climbing trips, and stay safe!