The 2019 X-Summit was the best X-Team event of 2019, and that's saying a lot. We were planning to outdo ourselves for 2020 by hosting the X-Summit at several epic locations around the world, but the coronavirus threw a spanner in those plans.
We had no choice but to improvise, adapt, and overcome. The X-Summit 2020 turned into a four-day remote event full of activities, prizes, chat rooms, escape rooms, and... the most epic opening ceremony we could come up with.
We wanted to shed some light on how we created the X-Summit 2020 Opening Ceremony. How did we film the epic battle? How did we get Elijah Wood and Billy Dee Williams to talk to us? Who are the X-Street boys? Ryan Chartrand, the mastermind behind it all, answers some of your most pressing questions.
How did you come up with the ideas for the video?
This was probably the most challenging process I've ever gone through. We had to bring the X-Summit online due to COVID-19. Recreating the magic of the X-Summit, of being surrounded by X-Teamers in an epic castle wasn't going to be easy.
But I also wanted this to be an opportunity to practice what I preach. When the pandemic started, I was as lost, scared, and broken as everyone else. What pulled me up was the thought that 2020 was a test. It was a once-in-a-lifetime moment to discover what we're truly capable of when faced with a world where things are far from easy. This wasn't going to be a lost year. This would be a year where we would grow, do things we'd never done before, discover just how resilient and creative we can be.
So for the X-Summit we needed to create something completely unexpected. Something that would shake X-Teamers out of their quarantine mindsets and remind them of all the awesome things out there to experience, that there are still many ways to grow this year.
So the general idea was doing things you'd never done before. After that, I can't really tell how all the rest happened, but it did. Any time I approach these projects, it starts with imposter syndrome thoughts like:
I'm terrified
I have no ideas
They have huge expectations now
None of my ideas will work
This is going to be terrible.
But when I started watching livestreams of other companies, I thought "Wow, this is so boring, why didn't they open with something more epic?" Inspiration started flowing wildly after that. Long-time dreams returned, like doing an opening dance sequence like a League of Legends World show, but done in an X-Team way. Or blending Hardcore Henry with The Arena as an interactive narrative to open the show.
The ideas poured in the more I watched livestreams. I constantly reminded myself that this wasn't the year to do more of the same, it was time to push outside of our comfort zones, as 2020 wanted us to.
Where do you find all the footage? Movies, yes, but where did The Arena IRL footage come from?
For most of the years of X-Team, we've had to rely on footage we found online to create epic video content. It's always been bittersweet knowing that you pieced together a great moment, but you didn't really create it yourself.
Well, that's no longer the case. X-Team has grown in size and we can now create a lot of our own epic content. The opening dance sequence or The Arena IRL footage (minus the 5 seconds Star Trek intro at the start) or the vast majority of our shows these days is content that we've produced ourselves entirely.
Road Media is the production house that wrote, filmed, and edited everything for the Arena IRL, while the opening dance sequence was filmed with my team here in Phoenix, Arizona.
About the "X-Street Boys." Who are they and where did you find them?
I'm sure they'd love that name. They're actually called the Elektrobotz and they're a great example of up-and-coming talent, although they've already performed at NBA games and all sorts of big dance competitions. They're talented, humble, and they have the X-Team spirit of pushing the boundaries of what's possible in their world.
They were down to collaborate with us, so they put together an awesome gaming- and cyberpunk-inspired soundtrack to perform to. They themed the choreography around House Lions vs House Nightclaw, which was going to be a big part of the X-Summit week.
I've done a lot of shoots over my career, but this was one of my favorites to watch. There was so much magic in the room as these guys poured their sweat and soul into their performance. For four hours straight, they created something truly unique, special, and energizing for the X-Team community.
How did The Arena IRL come together? Were you involved in the shoot?
It still baffles my mind as to how this happened and turned out so well. I'd written down perhaps seven paragraphs talking about the general idea for The Arena IRL, and our friends at Road Media came back with this big presentation that totally understood the vision. They'd sliced up the idea into a shot list, shooting schedule, locations, you name it. They got it immediately, started casting right away, and found all these incredible locations that gave it the cyberpunk-meets-2020 feel. They really owned this project.
I'd casually mentioned zombies at one point, not even in a really serious way, but they really latched on to that and made zombies the focal point of the story. It made everything even more epic. We may even see more zombies in the actual Slack Arena game as a result. They also tossed in the girl from The Ring, which was decided on set but really added another layer of mind-blowing action to it.
They even climbed this old crane for the opening shot. It fit perfectly with the Star Trek opening and original inspiration of X-Teamers as bounty hunters dropping into the Arena.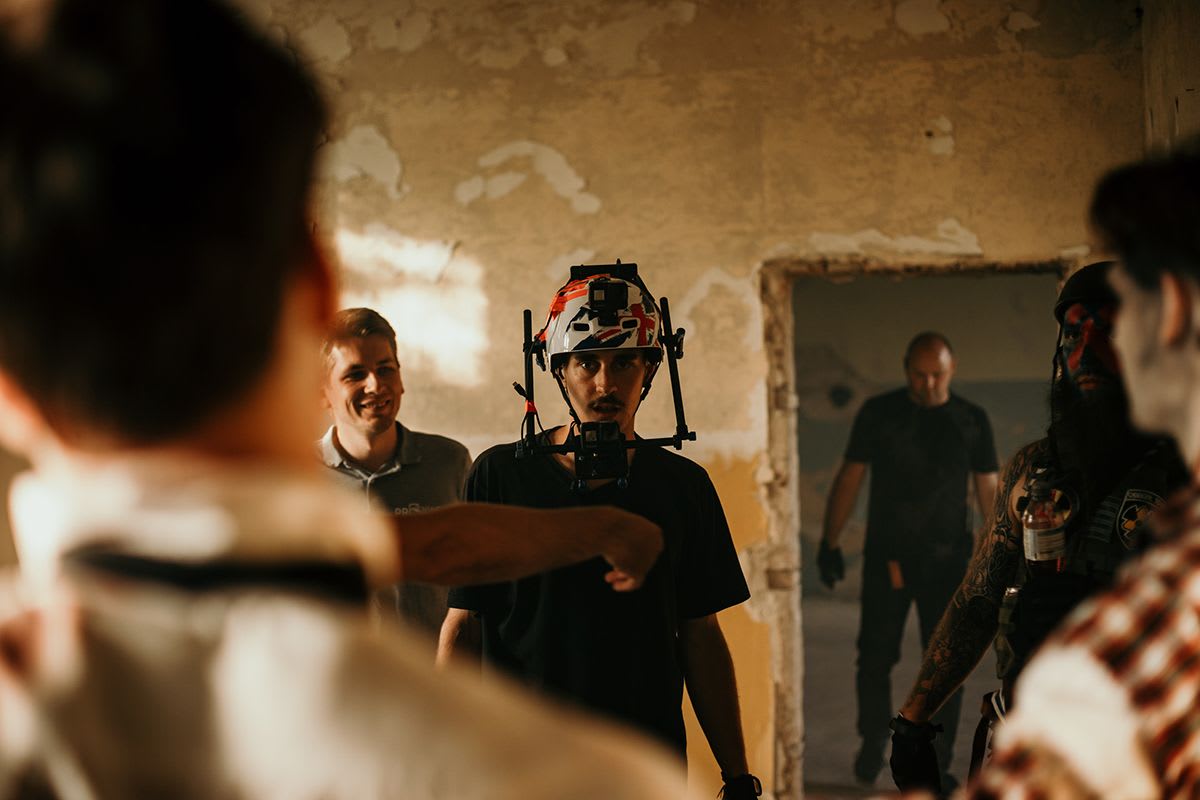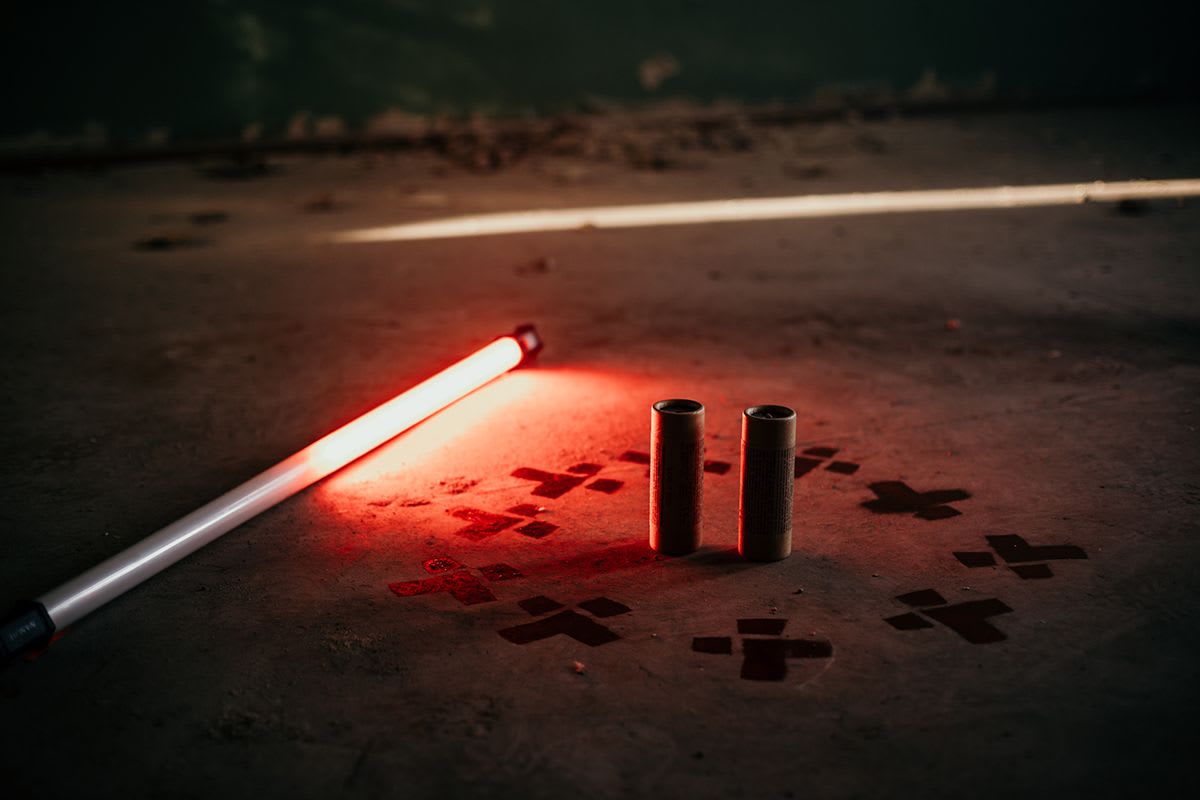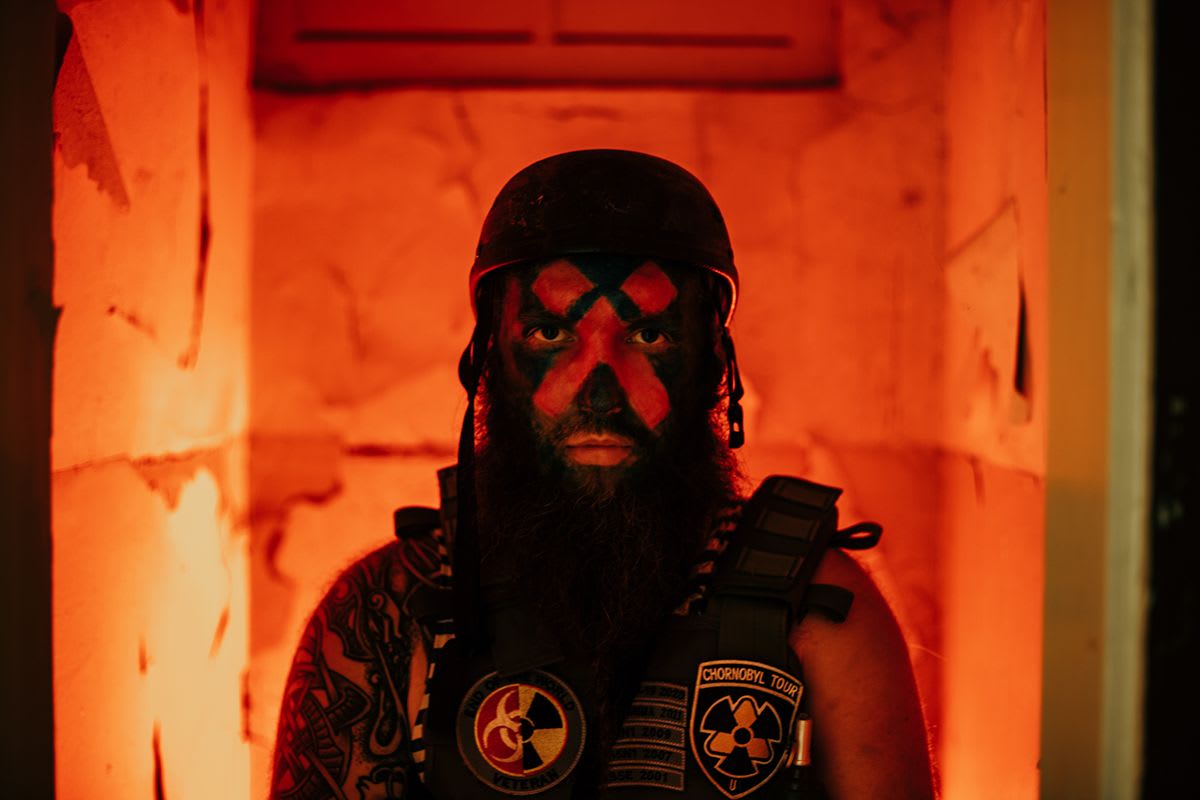 So Road Media really did a great job here. They spray-painted our logo all over this old abandoned shipyard building and filled it with cyberpunk-inspired lights – the same we used in the dance shoot. It was just an epic production. The final boss even had the X-Team logo plastered on his face, which was a great Easter egg.
It's really rare that I can hand over a vision to a team and still get a great end result. It's a testament to the creativity and commitment of Road Media to make something this awesome despite the difficulties of 2020.
From a technical perspective, how did you make the Arena IRL run so smoothly? It's a livestream, X-Teamers decide on an option, and then you do what?
That was the scary part! In the end, we had to come up with seven different videos in for all the possible scenarios X-Teamers could choose. Each scenario had to end in the same location too, regardless of what happened in-between.
The hard choice was deciding whether you could die or not. I won't say whether there was a 'death' ending with a 'restart' option, as I'd rather everyone infinitely wonder, but it was a blast making each and every scenario, some of which may never be seen despite how awesome they were.
During the screening, we had all the scenarios queued up. Our livestream producer stood at the ready to decide which scenario we would switch to based on the votes in Slack. Only the last decision, camping near the airdrop or running straight to it, was a close call.
The other challenge was making scenarios that would be great no matter what X-Teamers chose. Our community tends to be completely unpredictable (alright, we did predict they'd choose Leroy Jenkins mode). X-Teamers also tend to choose the option that will create the most chaos and break things 😅 (#programmers).
Overall though, it was about creating a great piece of film and putting it in the hands of X-Teamers to direct.
Finally, Elijah Wood and Billy Dee Williams! Those were incredible moments in the opening ceremony. How did you get them to talk to X-Team?
Yeah, it was funny that some people thought it was a deepfake! We wanted to blow X-Teamers' minds and create a few big surprises in the opening ceremony, in the hopes that it would generate this idea that great things can still happen in 2020. We were in luck that a site called Cameo had recently come out as one of the ways celebrities could earn an income despite COVID-19.
People usually go to Cameo so a celebrity can congratulate a friend of theirs on their birthday. There's no guarantee they'll actually make a video. Thankfully, Elijah and Billy were awesome and so down to be part of the X-Summit. It was a dream come true in so many ways.
Elijah really is one of the most beautiful souls on Earth. He beams with positivity, innocence, and that feeling of "everything's going to be alright, Samwise Gamgee." I loved how he referenced that this is the time to go on new adventures, as Frodo did. He laughed, as if he remembered that decade of his that was completely unexpected and life-changing. In some ways, we're going through the same – a life-changing, unexpected moment. Elijah really inspired us to launch well into 2021 with forward-moving energy.
And to have Billy Dee say "May the X be with you" really just completed a very long circle behind the meaning of that phrase. It a Star Wars-inspired phrase, of course, but it stands for something important: always move forward. Look to the future excitedly, eyeing what's possible. To have Billy Dee give that command as the official kickoff to an incredibly important X-Summit was a huge milestone.
And it led into an incredible week. Thank you for putting so much effort into the opening ceremony and the X-Summit!