After months of planning, the Victorian government's latest initiative in innovation came to fruition. The two night event, #BudgetHack, was a hackathon meant to make the Victorian budget more accessible and understandable to the general population.
It took place over the course of two weeks at the Melbourne office of Outware Mobile and Zendesk, two companies both eager to support technical innovation in Australia. At both events there were a number of government officials, business owners, venture capitalists, startup enthusiasts, and of course, the hackathon participants, who all supported the same cause.
The first night, participants gathered around for a few short presentations and then quickly split up into teams to start brainstorming ideas. Provided with pages upon pages of raw data and government legislature, teams sought to break it down into an easily digestible format.
Two weeks later, teams gathered at Zendesk to finish up their pitches and present them to a crowd of around one hundred people.
Coming in first place was a team called "Bling my Suburb." The team, including X-Team's very own Sam Accetta, developed a program that displayed government spending by suburb on an interactive map.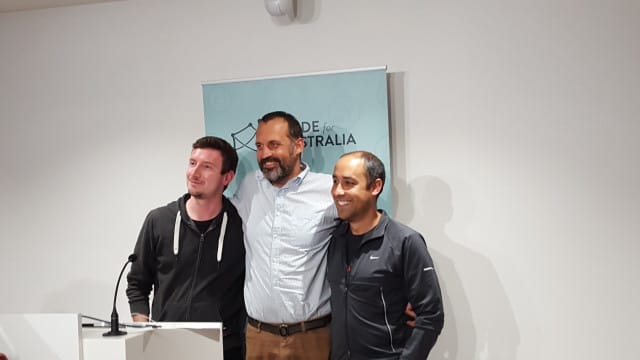 The program was an impressive display of how a simple piece of technology can provide transparency to an otherwise complicated data set.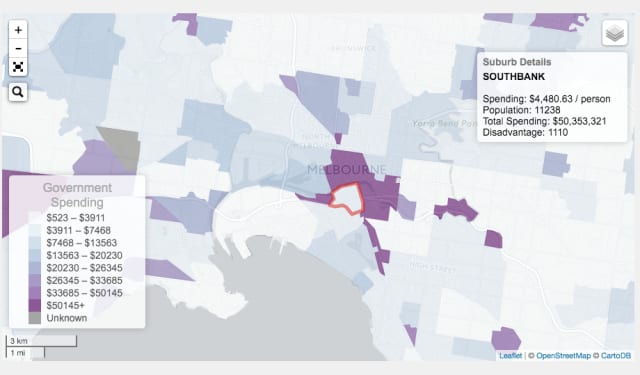 All of the teams pitched great ideas that demonstrated the need for more intuitive technology solutions in government. Some teams even seemed to have the intention of bringing their ideas to life beyond the hackathon. It would surely be a step in the right direction for the government if they continue to provide support to the teams that presented new ideas.
In attendance on the night was Philip Dalidakis, the Minister for small business, innovation & trade. He was the first to say that "we don't pretend to have all the answers," when referencing the lack of technology solutions surrounding the budget. However, that's why the government sponsored the event, and aims to do many more similar events in the future.
He was extremely supportive of the event and the event's organizer, Code for Australia, who works to bridge the technology and innovation gap between the government and the people of Australia.
To further push the idea of innovation, X-Team decided to sponsor the event to present to the crowd the relatively unexplored idea (at least in Australia) of having a remote workforce. The message was well received, even if the Australian market still needs a fair bit of education on the topic.
When we asked Mr. Dalidakis what his thoughts on remote workforces are, he was extremely receptive and encouraging. He noted that more remote workers would help reduce traffic congestion, disperse healthcare costs out of major cities, and provide rural communities access to more opportunities. All of which are benefits that go far beyond the better lifestyle individuals have when working remotely. Not to mention the countless benefits to businesses who have a remote workforce.
We think it's important to not just innovate new products and services through technology, but to innovate the way in which we build those things. One great way to do that is through accessing a global pool of talent through a remote workforce.
In addition to promoting the idea of "going remote," we wanted to simply show our support for causes beyond just building great things for businesses. The people at X-Team are always looking for ways to advance technology and give back to our communities. Not because we have to, but because our people simply love to play their part in making the world a better place to live through technology.
In the future we aim to continue supporting the Australian community and forging relationships with businesses, governments, and organizations like Code for Australia. At X-Team we all eagerly look forward to the big things that are in store for Australia, the place where it all began.