Mateusz Szymkowicz is a Product Designer at X-Team as well as a passionate roller skater who participated in the 2017 World Slalom Series. In this interview, we discuss his love for skating, the equipment he skates with, and how he contributes to his local skating community.
Roller skating isn't a hobby you hear much about. How did you get into it?
I got my first skates when I was six or seven years old. I've been skating since then, mostly for fun. In college, I wanted to take my skating to the next level. I saw a guy doing some cool tricks on his skates, which is how I discovered slalom skating.
Slalom skating?
It's where you skate between cones. There are two types of slalom skating: freestyle and speed. Freestyle is about effectiveness, technique, style, and music. It's comparable to figure skating. Like this:
Speed slalom skating is about how fast you can go through a line of twenty cones on one leg. It's comparable to slalom skiing. Both are fun, but I was best at speed skating.
Impressive! Before the interview, you said you participated in the World Championships of Slalom. What was that like?
They're called the World Slalom Series and I did indeed participate in a few. The one that was most special to me was the one organized in my home city Rzeszów in 2017, where you could earn a lot of points for the overall slalom leaderboard. It attracted top skaters from all over Europe. Spain, France, the Czech Republic, you name it.
I got through the qualifications. In the semi-finals, I competed against the former Junior European Champion while my friend competed against one of the quickest Spanish skaters. My friend and I won. Then I had to compete against my friend in the finals. It was stressful and exciting at the same time. I won the final in the third round.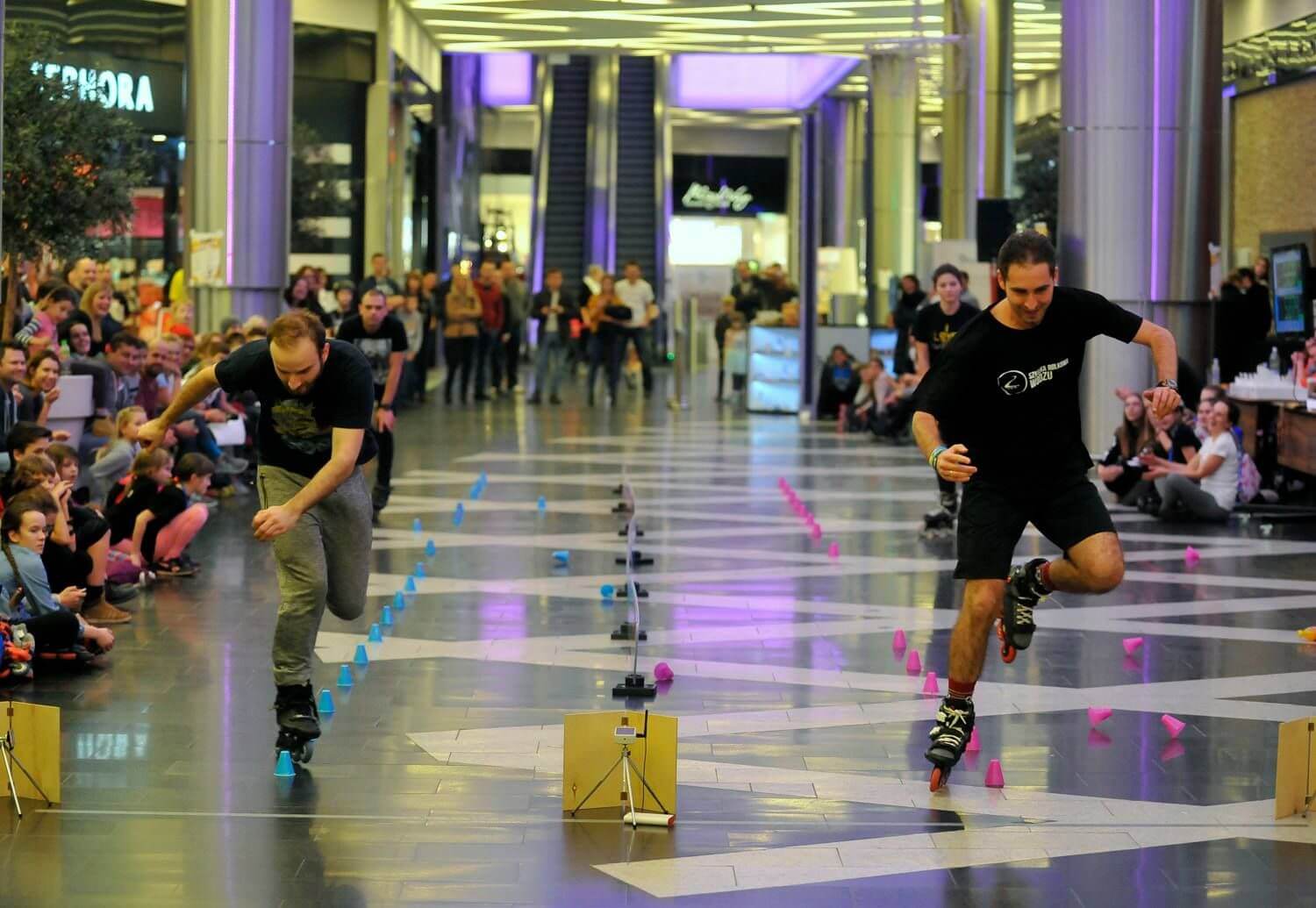 Congratulations! An achievement you must be proud of. What gear do you skate with?
I've had many different models throughout my career. Currently, I have three pairs of skates. The first one is the Seba Igor model with 4x80mm wheels and a banana frame (where the first and last wheels are higher than the middle ones). I use these for freestyle slalom and slow, relaxing skating sessions.
My second pair of skates are the Powerslide Imperial skates with 4x80mm wheels and a flat frame. Because of the flat frame and the hard boot shell, these skates are very stable. They're what I roll with for urban skating or freeskating.
Last but not least are my Powerslide Imperial skates with 3x110mm wheels. Bigger wheels mean more speed but less handling. I use these when I skate long distances and when I know the surface will be flat. Sometimes, I use them for urban skating too.
You said you're now more focused on supporting the local skating community. How do you contribute?
There's a lot going on. First, there's the roller skating school. My friends teach thousands of kids and adults how to skate there. I helped design and brand their new website.
Second, I organize nightskating events in my city. These are once-a-month events during the summer where we skate on the streets in the evening. About five hundred skaters every time, so a lot of people! We work together with the police and healthcare officials to make sure it's all safe. We have our own backup team too.
Each event has its own theme. We've had Disco Polo, Food, Cartoons, Movies, etc. They're great fun to organize and participate in.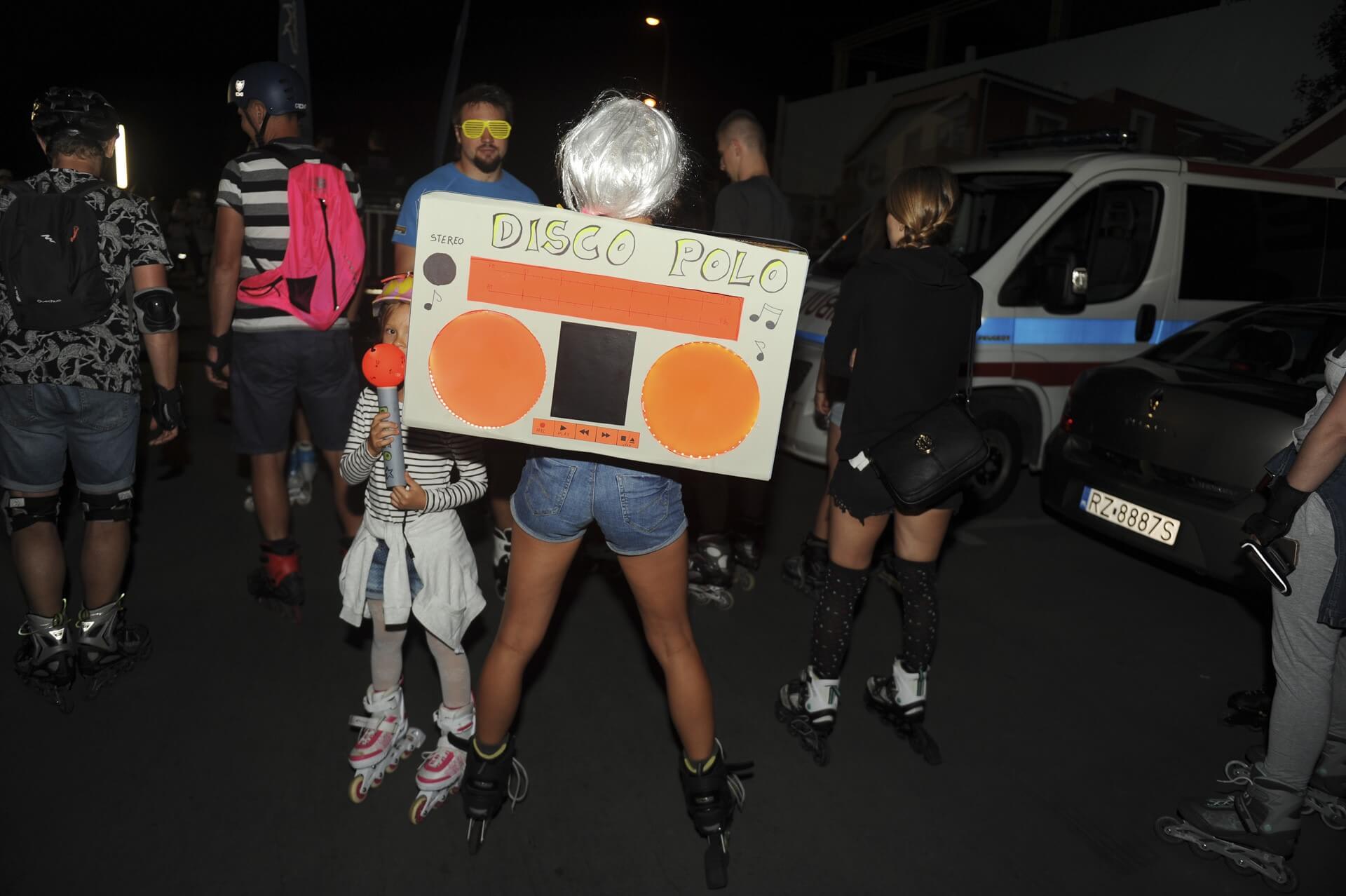 Third, our team organizes the World Slalom Series that I spoke about above. I'm responsible for some of the logistics as well as the visuals (branding, website, social media, ...).
Finally, there's a roller skating association that connects everything I just mentioned. I'm one of its core members. The association handles everything legal. I recently even spoke to the president of Rzeszów about skating in our city. Does it surprise you that I created the website for the association? 😀
That's amazing! You do so much for your community. Now, who are some cool skaters to look up if a beginner wanted to get inspired for skating?
I mostly follow and recommend old-school freestyle slalom skaters, because that's the style I prefer. They do freestyle different on different continents, so here are my favorite European-style skaters:
And Asian-style skaters:
Finally, what's your favorite thing about roller skating?
The freedom and diversity. You can go for a chill session on your own, with friends, or you can skate in the park with your favorite playlist. You can try new things when you're bored or just do what you enjoy most. There are so many things to try: skatepark, speed, freestyle, slides, urban, freeskate, fitness, downhill, etc. It's also a great foundational sport for others sports like skiing or ice skating.
If you want to know what it's like, check out my skater videos below:
---
Do you want to join a company full of talented people like Mateusz? You can! X-Team is always looking for experienced developers. Send through your application today.