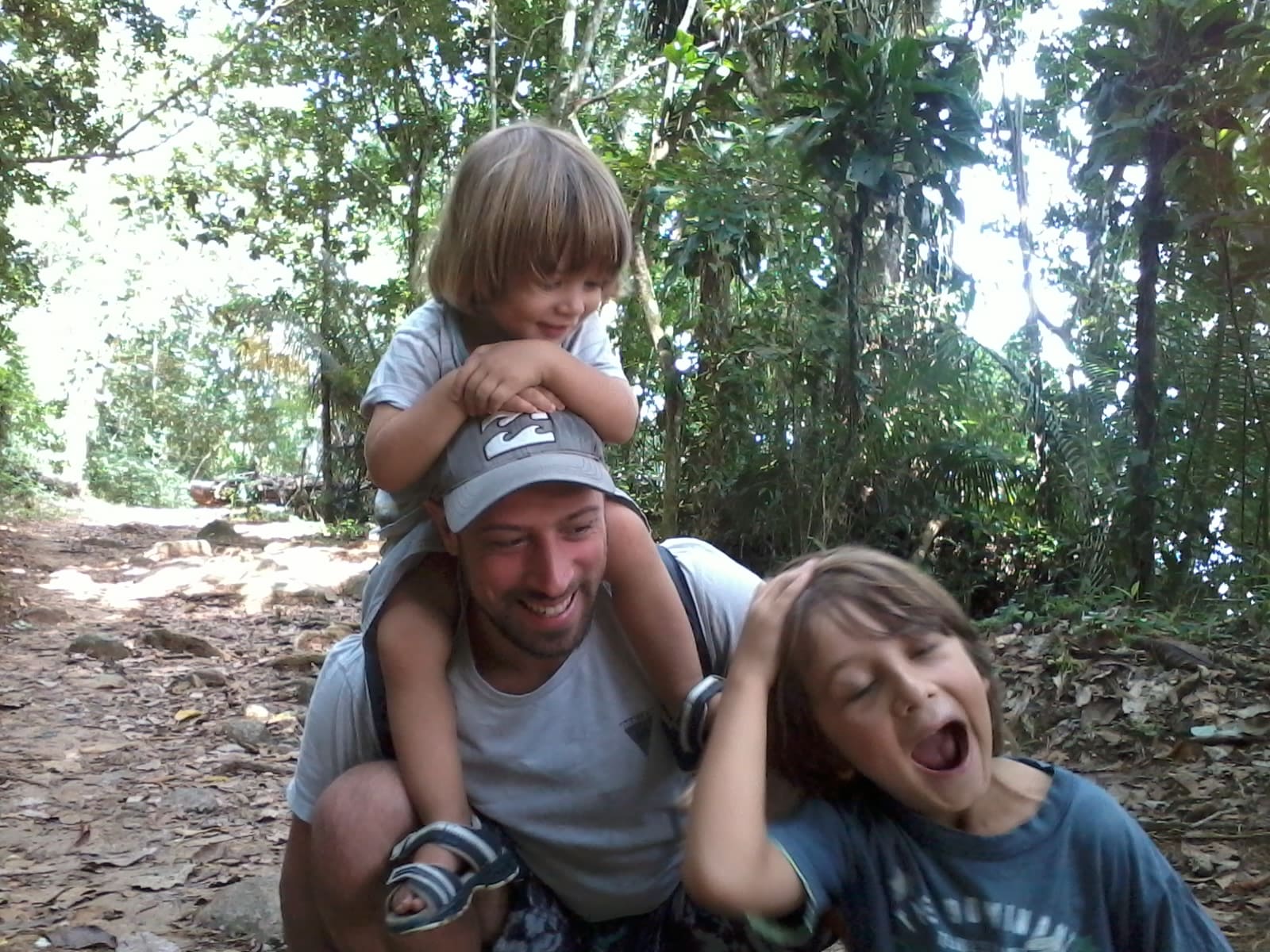 My two kids Leonardo and Eduardo and I walking in the forest near from our house.
When I became an X-Teamer, I was able to bring wife, two sons and dogs to live in Ubatuba, a beautiful place in Brazil filled with more than 100 beaches. Why could I do this? Because now I could work from anywhere. It's seriously amazing. And soon after I had arrived, I met people that were already involved in very interesting movements related to a vast variety of sciences.
Ever since I joined X-Team, I've been very impressed about its culture and the way the company is organized. Something about it felt so right that I began to wish something similar could happen here in Brazil where I live.
A lot has happened since that spark of a wish burst. Things have evolved and continue evolving.
This past year, I made that dream come to life and founded together with friends the Avante Studio, a place to teach, learn and develop using technology. The word "avante" is Portuguese for "forward."
The Avante Studio

Brand created by Marcio.
We're located in Ubatuba, Brazil, in a coworking place called UbaLab, where we share the space with the radio station Gaivota FM and a lot of other nice people who come here to use the space.
We have a diverse group of talent at Avante. We have web developers working on websites, playing with robotics, business strategists, and even designers. You have all the talent you'd find in a studio, all co-working in one space.
Right now, our team is formed by Álvaro (a professor and a coordinator of the IT course in the Etec Ubatuba), João (a computer technician graduated from Etec Ubatuba), Jéssica (a Computer Science student who has already graduated in IT in 2013 from Center Paula Souza in Ubatuba), Junior (a technician graduated in Business Administration who is currently graduating in Computer Science), Gabriel (majoring in Systems Analysis from Fatec), Marcio (experienced designer, who has a background in Data Processing and a degree in Advertising and Marketing) and me! And I'm a front-end developer at X-Team, learning how to lead product development within a team, learning how to teach, how to do public speaking and also, among many other things, entrepreneurship.
Team work
"Salutary is only when in the mirror of the human soul is formed the whole community; and in the Community lives the strength of the individual soul." – Rudolf Steiner
I personally like this quote by Rudolf Steiner. In other words it means that a single person should carry the community culture, and the community is the sum of its members' strengths. And that is exactly how we rock at X-Team, and how we rock at Avante Studio, too!
This is our main focus in Avante: to inspire both the team and the individual through professional self development. Our studio is a non-profit and has a flat structure. This creates a space for students to take ownership of their work.
We all are students and professionals coworking in the same place. The idea is that when someone knows more about any subject, they can use the space to teach others who are interested in learning. We experience the fact that when we teach, we learn at the same time, and this also inspires collaboration and proactiveness.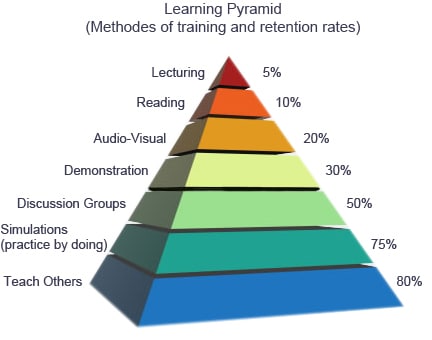 Teaching others have the highest retention rate among other learning methods.
#unleash
The studio is a real thing today because of partnerships. And we made a few good ones! One of those was, namely, with X-Team.
One day last year, I got an email from Jakub. He was sending an impressive invitation to join an initiative called Path to #unleash. It was the kind of email you read 3 times and spend the rest of the day with a nice smile on the face.
The studio at this point was already happening as a tiny and fragile seed, and I was able to close a deal with a real partner, so we had our first commercial project to develop. As mentioned before, the Studio itself is a non-profit organization, but it aims for equipping its members with everything they will need for making profit out of their skills.
A new adventure awaited, and we were ready to start "learning in the wild". The problem was that our team at that time was mostly formed by beginners, thus everyone with low-performing computers…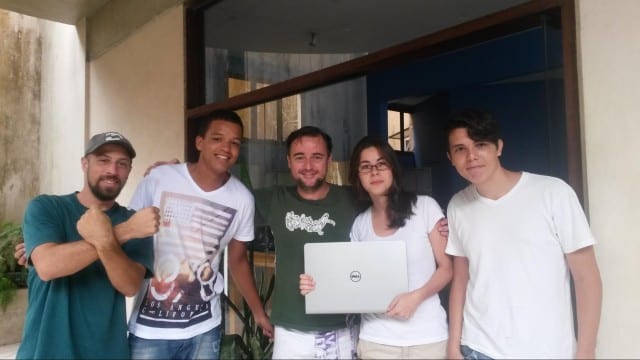 From left to right, me, Junior, Álvaro, Jéssica and João. The initial Avante team.
…until X-Team, like the group of superheroes they are, kindly supported us with an awesome laptop via their Path to #unleash program. Thanks to the laptop, it helped us deliver our first project!
The studio has now had more than a year of activity and we celebrate each step. We made sites, robots, workshops, a lot daily lessons and friendship.
Today the notebook borrowed was bought and the money already reverted in a second notebook borrowed to someone else.
I'm not exactly sure where we'll be in the future, as the studio is a living thing! We are open to growth and collaborating with each other, and we want to be involved in open source culture and share knowledge with anyone who dares to be awesome with us!
For all this time, for the countless number of times, X-Team gave support and exchanged ideas. I also must thank every X-Teamer for being great developers and persons, that's what make us a strong team! /fives @all