We're excited to announce the launch of our collaboration with Palace Cinemas Australia, a national network of boutique cinemas renowned for providing licensed and luxurious cinemas for the discerning patron.
The Challenge
As it turns out, seat allocation interfaces for most Australian cinema/venue sites are poorly designed for mobile devices.
Village Cinemas, the biggest player in the industry, has a seat allocation UI with a barely readable font and users need rather petite fingers to actually change/select their seats.
With Hoyts, another big player in the industry, mobile users actually have to scroll vertically through an exhaustive schedule to even select a film and date. To get to this Friday, for example, a user has to scroll vertically through each day's schedule, making for a frustrating, tiresome experience.
Purchasing tickets shouldn't be this complicated, tiresome or frustrating. Thankfully, our friends at Palace Cinemas wanted to do it better, and we were more than happy to partner up to build the future.
The Solution
Calling upon some of the world's most talented responsive design superheroes, we built a hand-crafted responsive site that was bandwidth-light and highly-optimized for mobile and gesture-based interactions. This included allowing users to find their nearest cinema based on geo-location and an easy-to-use search filter to find their favorite films fast.
We also created a beautifully designed seat allocation experience to make all their other competitors blush with embarrassment.
Business impact: 27% of website traffic is now going through the mobile ticketing site, with bounce rates having dropped and conversion rates increased during key booking periods since the site launched. This is providing Palace Cinemas a dramatic rise in opportunities to secure ticket sales.
It also positions Palace Cinemas as an industry leader in responsive user-centered mobile design in the Australian cinema industry.
We had a great time collaborating with Palace on this and it was nice to hear them say the same:
I personally found X-Team to be prompt, professional and classy. – Renato Fonti, CFO, Palace Cinemas
Palace Cinemas responsive design demo
## Competition comparison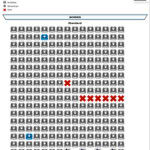 Font issues – illegible due to size.
Invisible labels – minutes label is hardly visible due to it being the same white color as the background.
Seat graphics too small for intended use – need to zoom in to be able to select your seats due to the size of the graphic.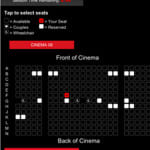 Fonts too small – still too small for mobile device, maybe illegible for older users with impaired vision.
Seat graphic even smaller than Village Cinemas – even if you had a child's fingers, you would still have difficulty in selecting a seat without accidentally selecting adjoining seats.
No clear instructions for mobile use on how to use the gestures.
Unbalanced design – appears immediately lopsided as it appears the graphic elements have been aligned to the left
Palace Cinemas' new responsive mobile ticketing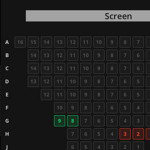 Large, clear font size optimised for mobile
Seat graphics are large enough to use with adult finger, color-coded to maximise usability
Balanced Design – center aligned with the seat grid taking advantage of mobile devices' swipe or scroll features
Clear and easy to see instructions for mobile user to understand how to use the interface