Time flies – it's already summer, and I hope yours is going well! Seems like just yesterday I was at DrupalCon in Los Angeles, the famous city of movie-making – to make it sound more like a dream… at least my own dream, one that was made true. Because part of our team was invited to LA by an extraordinary company – X-Team.
(Side note: I must say that combining work with travel is a greatly recommended experience, as it brings a breath of fresh air to your usual working process.)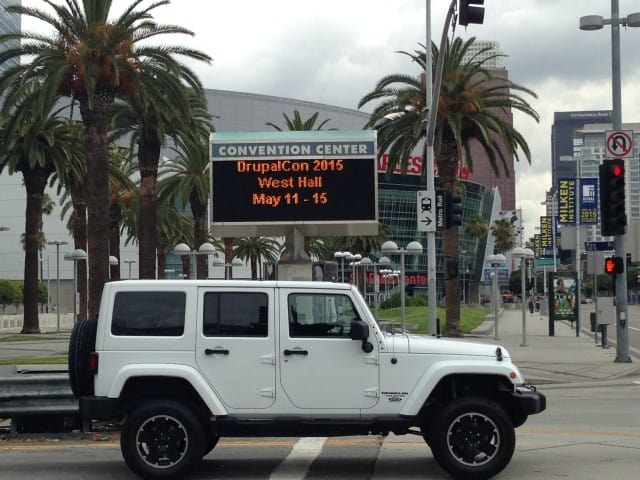 DrupalCon brings together thousands of people from across the globe who use, develop, design, and support Drupal.
Such an IT event sounds loud. Combined with California and Silicon Valley – sounds even louder. Like a promise that can be hard to deliver on. But it totally was, and with an impressive style. There were a lot of attendees, talks, trainings, huge conference halls and a lot of social events. There was a little something for everyone.
Although it can be pricey to get to one of these, I would definitely attend another, as the value you get from one is incredible. Here's why:
DrupalCon is inspiring
For me, it's more about getting inspired, and you certainly get that from the core team's keynotes (by Dries, Whitney Hess, Matt Assay). Those serve as an example that show how influential people involved in Open Source can be. During such keynotes (but not only!), you can hear a crucial word or two that will have a direct impact on your Drupal research, and will push you forward. And, of course, the future plans for the technology you use will be revealed before you! Learning from strong, inspiring leaders gives you yet another advantage as a Drupal developer.
But getting inspired isn't limited to just the keynotes – all community collaboration that happens also counts, as it gives you a strong motivation to write high-quality code, work on interesting projects and, of course, share knowledge and contribute to the Open Source movement. And it's great to see so many people around you who want work with, use and improve technology for the common good.
Drupal already has a really huge and awesome community – one that continuously keeps growing! And conferences certainly play one of the key roles here: every attendee that happens to be putting their very first steps in Drupal's world can always find support during trainings and even social events like the First time Attendee social. And that works just great, thanks to such a positive atmosphere where people feel very comfortable. So basically, no one should ever be afraid to attend their very first conference!
DrupalCon helps you meet colleagues
Personally, this conference will be remembered also as an opportunity to meet with my teammates (Ardi, Kuba, Sven) in-person. Since we all work remotely, conferences, meetups, camps etc. create a unique occasion to hang out together, get to know each other better, and strengthen bonds.
And the very same applies to business partners – many of them often attend such events as well, and it's always great to do a real handshake with them. Not to mention participating in a daily scrum meeting with people from five different countries, sitting at one table…
If you're going to DrupalCon, be ready to meet people from all over the world, have a lot of fun, discuss advantages and disadvantages of Drupal and any other web novelty, find people for collaboration/research, work partners, and sometimes even a job. And last but not least – you're bound to make new friends.
Unleash at your next DrupalCon and become part of the community. See you in Barcelona!