It was the X-Team Christmas Party in 2010. I was typing in a chat room connected to over 30 X-Teamers dotted throughout the planet. As we drank virtual eggnog and /danced to Silent Night in a multitude of languages, something happened that would change our lives forever.
Our holiday committee had gone to great lengths to create superhero alter-egos of all of us. Everyone received a crafted identity which echoed our real-world passions and powers. One-by-one, we each looked into a fantasy mirror which bestowed upon us a steadfast superhero title, a legendary bio and an artistically stunning visual portrait.
With record-breaking high-fives, this recognition of people cemented heroization as part of X-Team culture. We were no longer Lubos, Tine and Stan. We were now Omni, Controla and Animator.
We were no longer a web agency. We were X-Team.
Almost three years on and we are still crafting Superheroes. In fact, we just celebrated our 100th heroization. Animator, one of the original superheroes, got re-imagined to celebrate Luís Fonseca's fifth year with X-Team.
Over time, our hero-making process has been refined to an artform. Just as the visual style packs more punch, the psychological impact now has much more meaning. Unlike before, now not everyone on X-Team automatically gets heroized. Instead we reserve it for when individuals truly unleash their hero within.
To become a hero, you need to showcase both super and hero.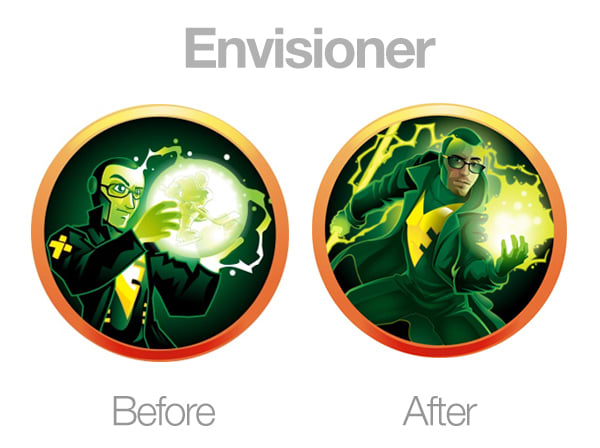 Beyond being fun, we've found giving heroization is a profound way of expressing gratitude. It lets people know we believe in them. When people start to believe in themselves, the world changes.
Think you've got both super and hero? Join us. You might be superhero number 101.
Wearing capes and masks is optional. Discovering your strengths and using them for good is not.